Thanks to the circulation of inspirational front yard landscaping on sites like Instagram and Pinterest, homeowners have started to see their front yards differently. Not only does an elegant landscape help you highlight the attractiveness of the house, but it also raises your home's value.
While a beautiful yard may take much money and a quite long time to be finished, there are always some low-maintenance and creative ways to upgrade your home's outdoor area without breaking the bank.
There are many front garden ideas that are generally useful for sure. For example, there is a front yard landscaping idea which utilizes a combination of colorful seasonal flowers and evergreens. By combining these two, you'll own an opportunity to update your front yard as the season change.
Regarding your commitment and climate, you may be able to even utilize flowering evergreens like azaleas to make an inviting front yard which doesn't need too much effort. However, you shouldn't forget to mind your level of commitment and environment as you plan the garden.
You should know that every plant has particular sunlight and watering needs. A succulent garden, for example, is unlikely to thrive in a shady yard while a fern garden won't last long in a sunny yard.
No matter what idea you love, pick plants that suit the particular condition and the climate in your yard. Then, with a little know-how, you will surely make a front garden that can amaze your neighbors.
Now, to help you put the idea together, I have collected some of the best front yard landscaping ideas that can give a boost to your exterior space. So, check this out!
1. Cheery Floral Border and Window Boxes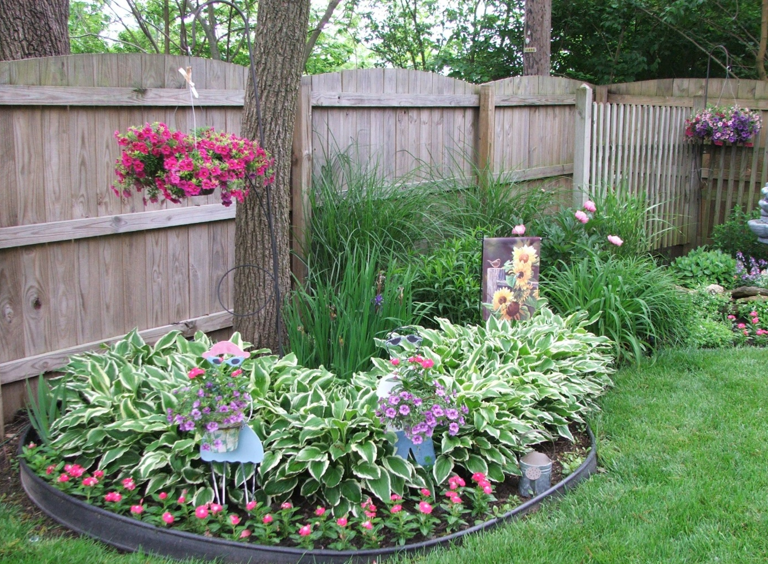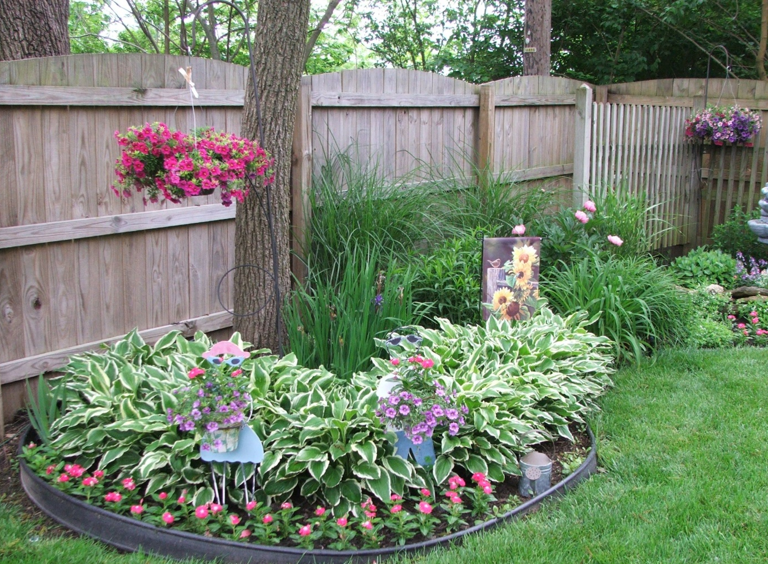 The easiest way to add some appeals to your front yard is to plant a colorful flowering plant. In this front garden inspiration, a combination of perennial flowers is employed to pop a color among the evergreen bushes.
Not only that they beautify your front yard garden, but they also help draw guests' eyes to the home itself.
2. Mini Water Feature Entryway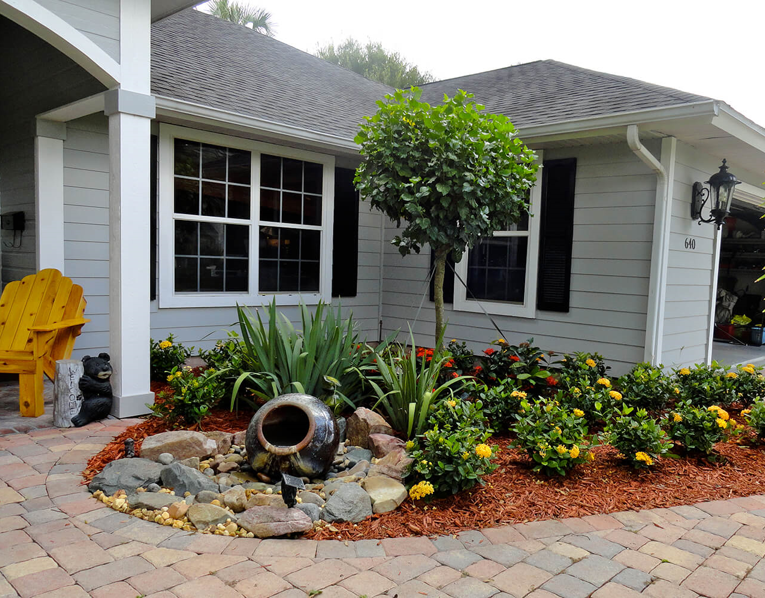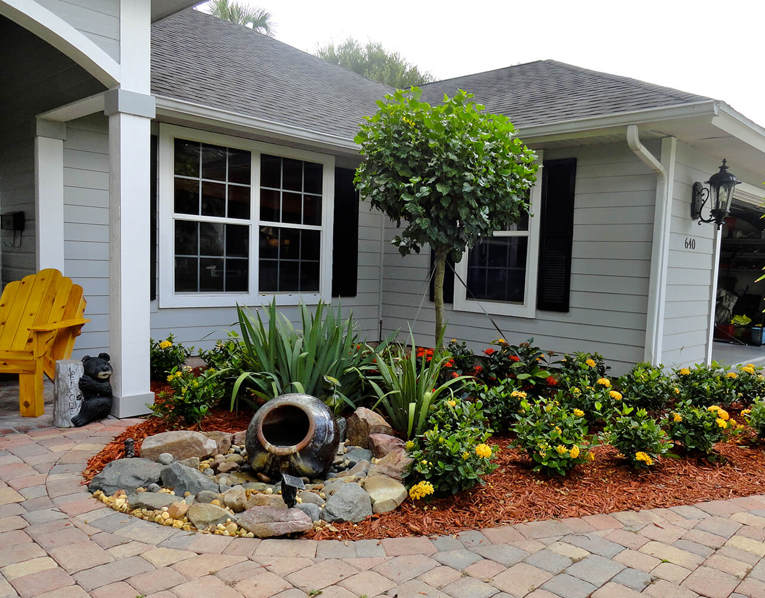 If you think that you don't have adequate space for a water feature in your front yard, with a little creativity there's nothing impossible.
Use this front yard landscaping idea and make the most of your entryway with a mini water feature. No need for a big fountain or pond. Just install a small pump inside a glazed pot.
3. Planted Wheelbarrow with Cottage Style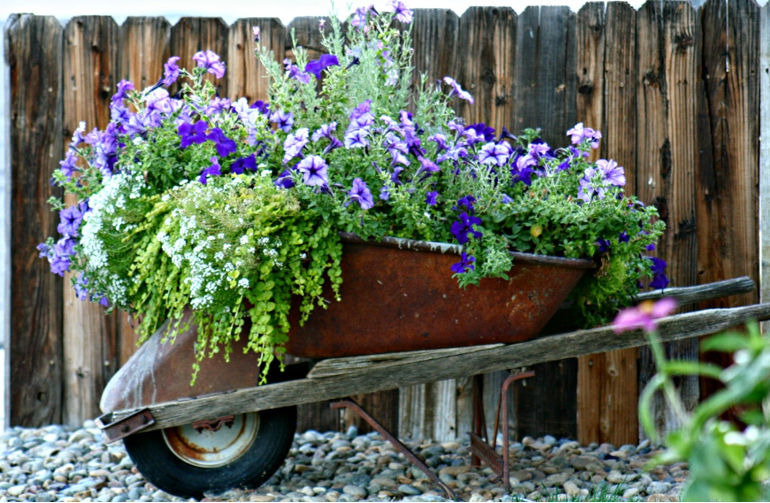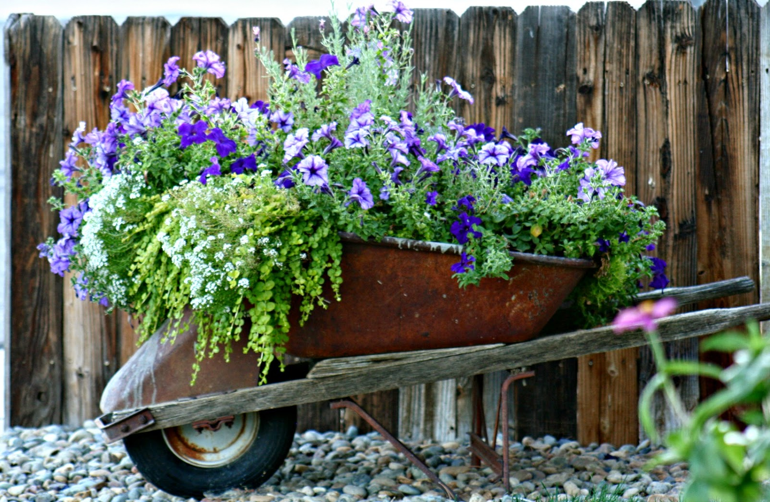 What can be prettier than a shabby chic wheelbarrow spreading out with beautiful flowers? This charming idea would be amazing for any yard even it is more suitable for a cottage-style garden.
You can use a variety of lowers for this kind of display. Just remember to use the best potting mix that will preserve water in the wheelbarrow.
4. Traditional Boxwood Edged Pathway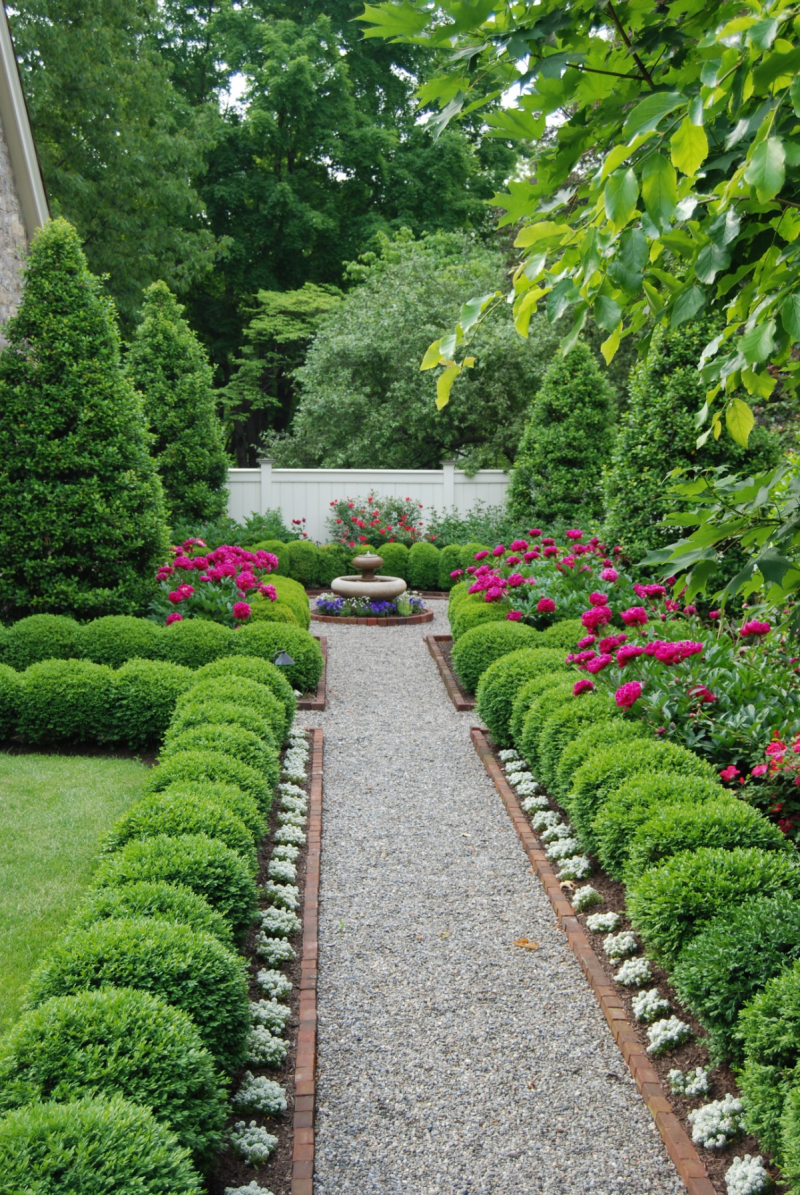 Make the best of your entryway by incorporating a traditional, yet classy boxwood hedge. Even though it seems simple, boxwood can be effortlessly shaped into any kind of designs.
You can add some perennial flowers among the boxwood for a pop of color like this one. You can opt for a low-maintenance kind of flower beds for this idea.
5. Multi-Season Flowerbed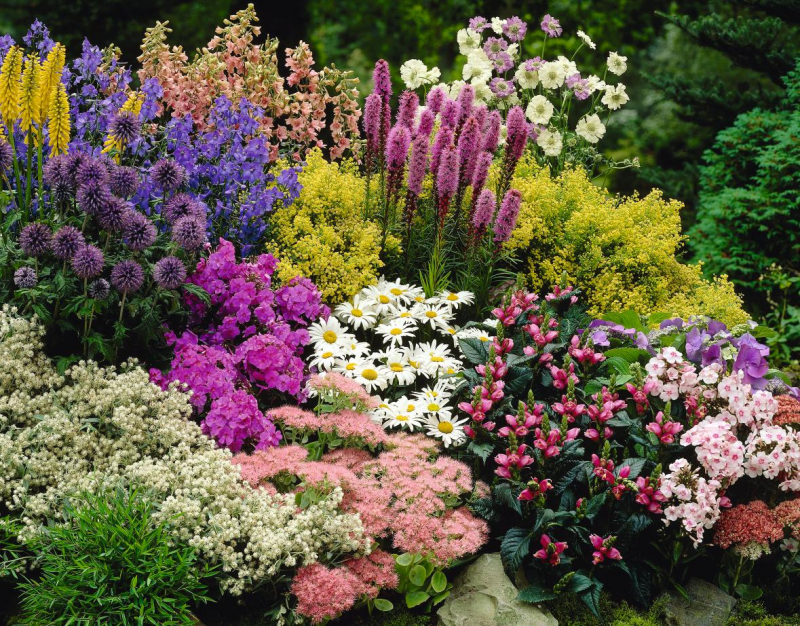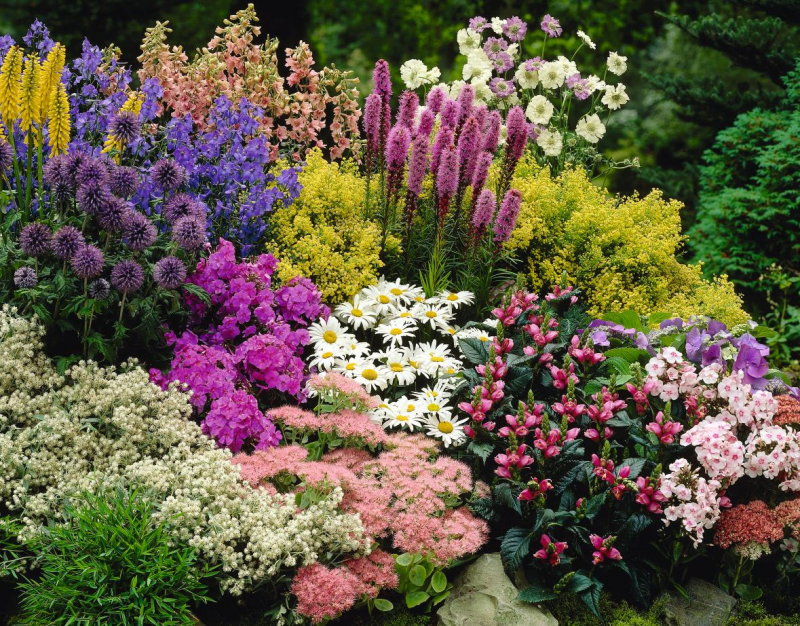 Mixing a variety of flowers that bloom during different seasons can present a continuous display of colors throughout the year. In this front yard landscaping idea, evergreen bushes are complement by summer and spring flowers.
Not only is the uprising of reds, greens, and pinks complementary to the garden's style, but it makes your entire home seems more welcoming.
6. Easy-To-Change Potted Border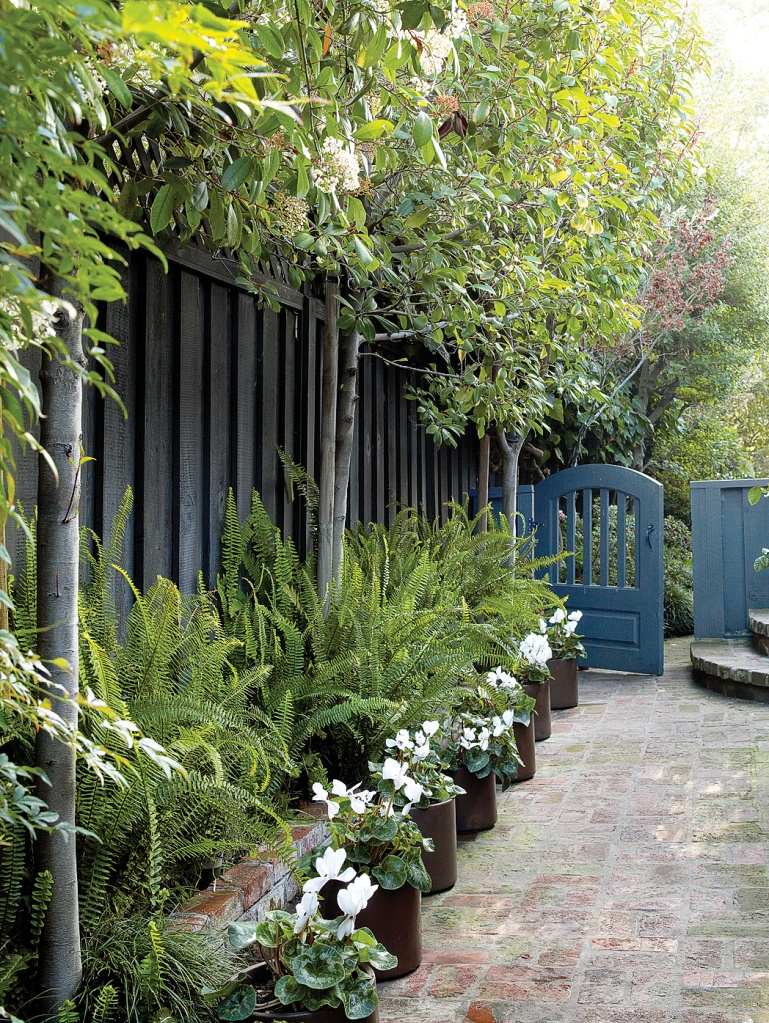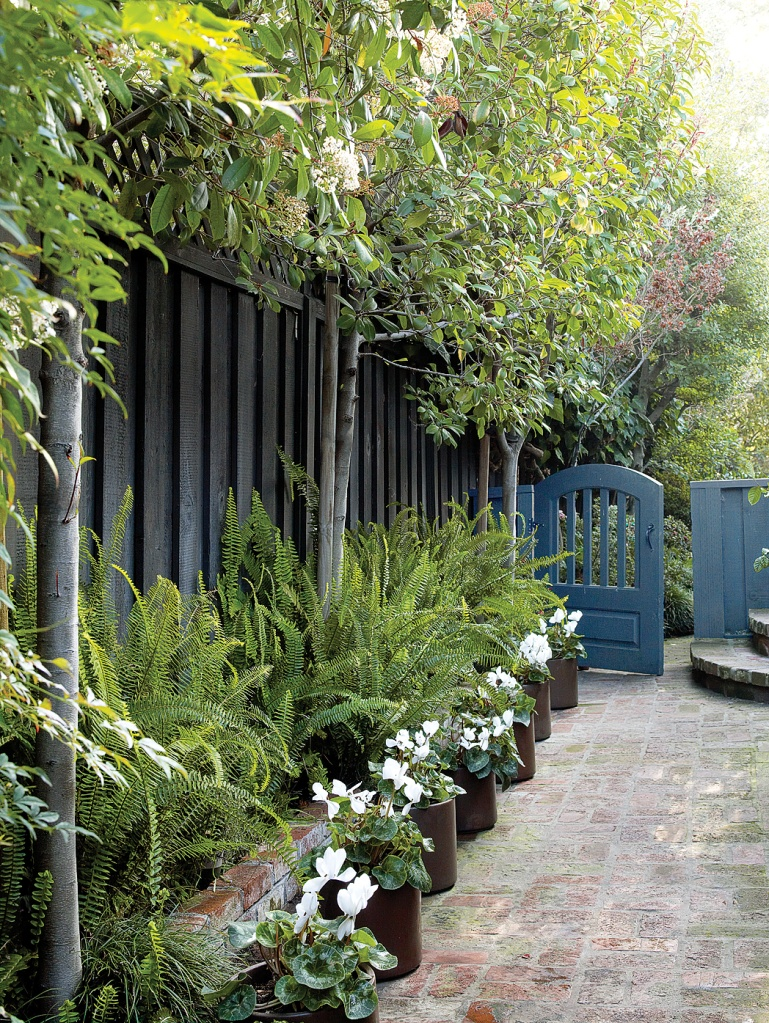 If you're just a beginner in gardening or frequently find that you're too busy to maintain your border looking its finest, try this idea for an easy-to-change flower bed.
You can simply purchase potted flowers and make them a beautiful home border. Once the season change, you can easily change them for new plants.
7. Succulent Stone Planters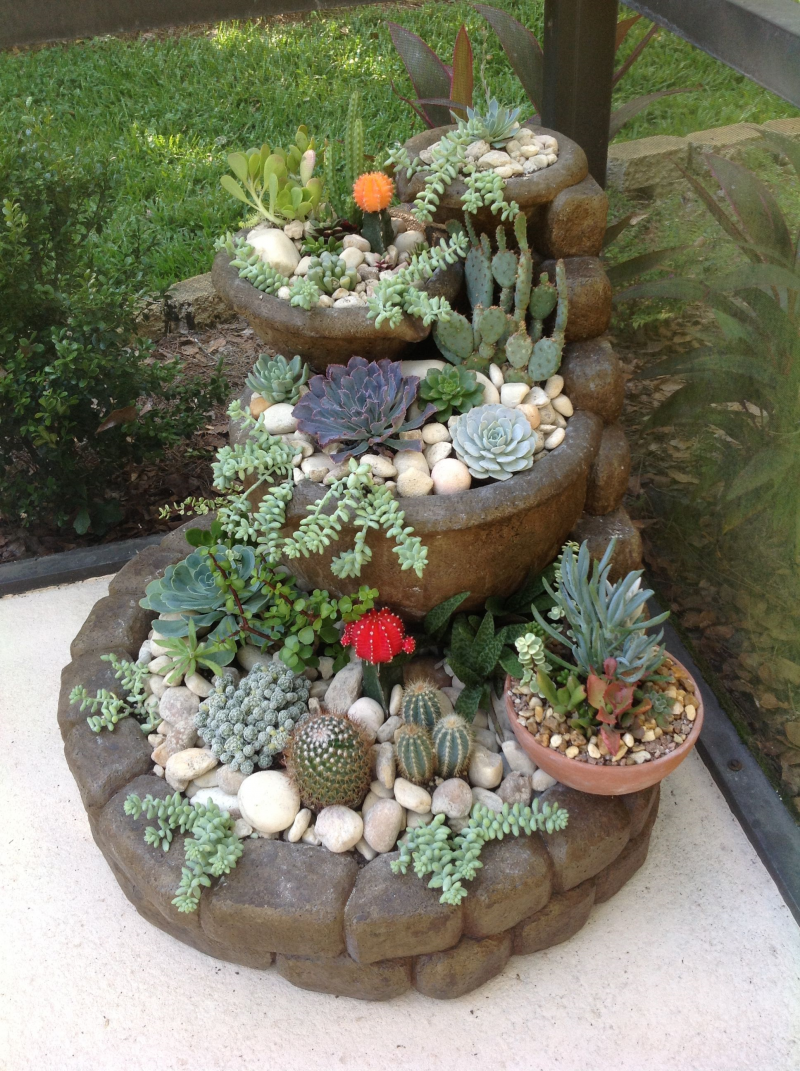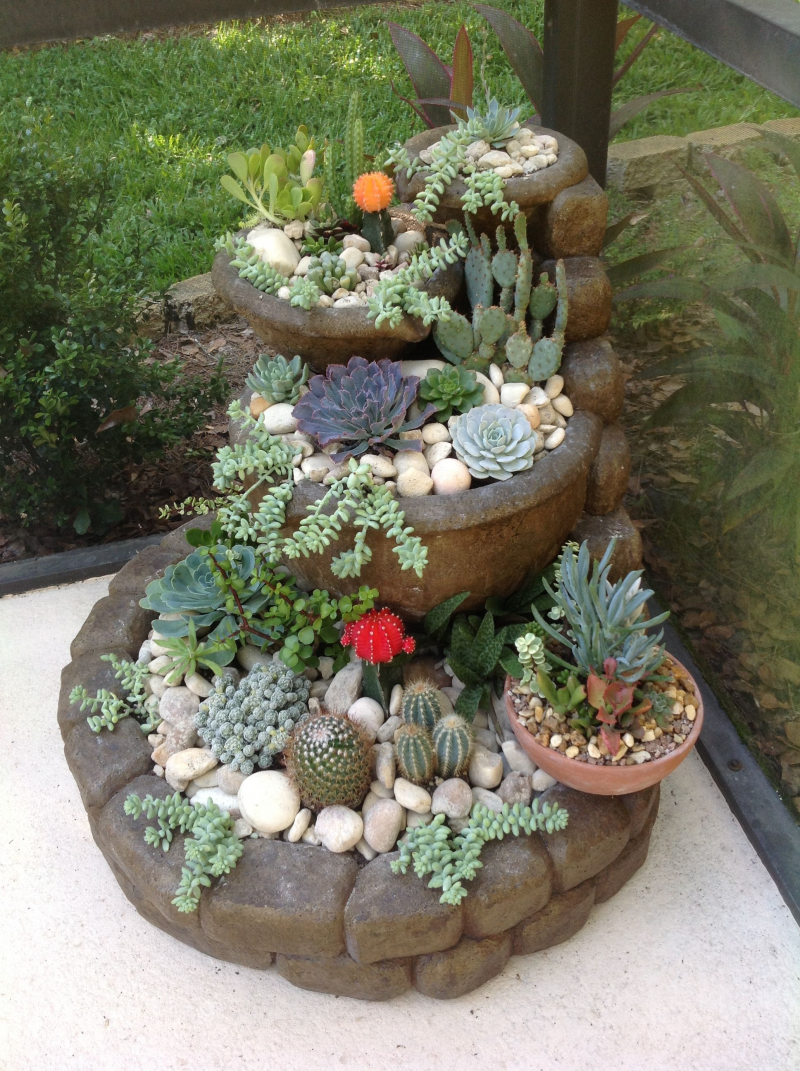 Modern, but rustic, striking, yet easy to care for, this succulent display is just right for any front yard landscaping design.
The best thing is succulents are available in a high variety of colors and they require minimal care. Just like this example, make sure to employ a mixture of types and textures including creeping succulents to fill the gaps.
8. Evergreen Border with a Pop of Color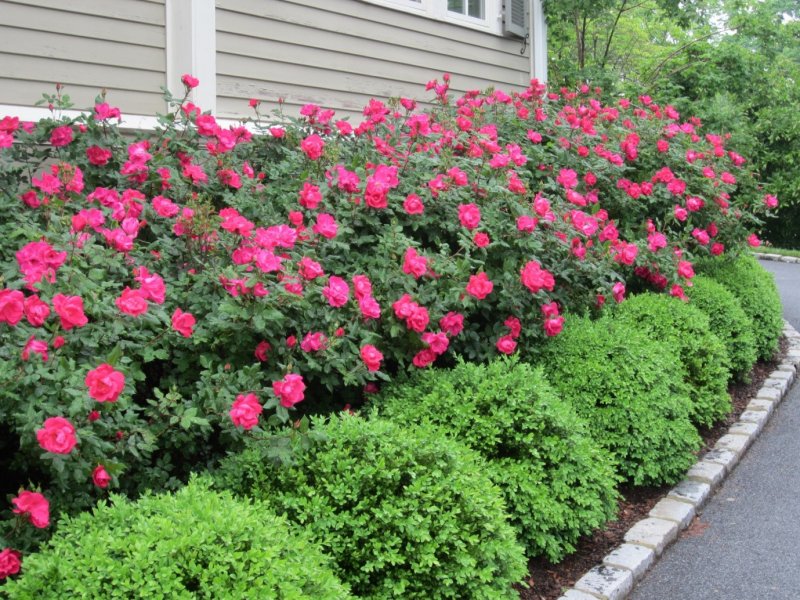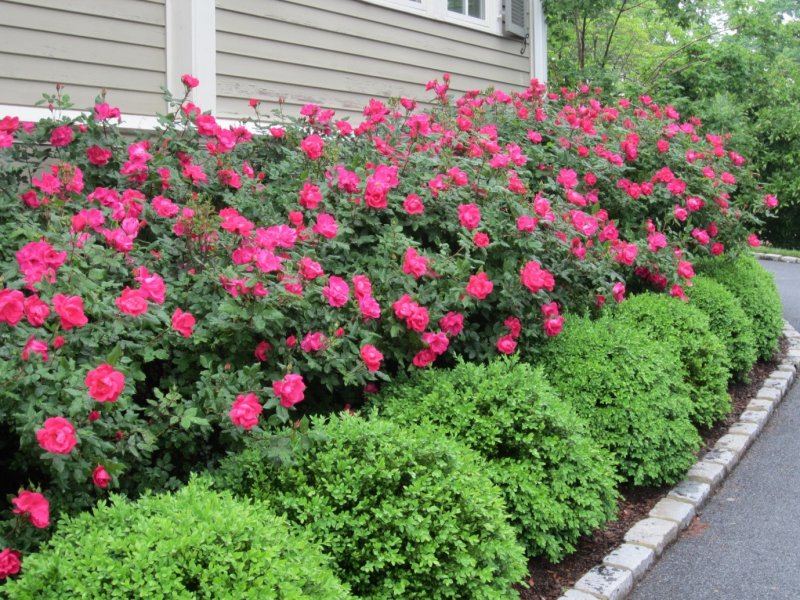 While evergreens surely keep a front yard from feeling nude in the winter, azaleas provide an additional benefit of creating impressive floral displays during the early summer and the spring.
Azaleas come in a huge variety of colors and are able to be adapted to various climates. Consider mixing the display with other non-blooming evergreens, like they are in this example.
9. Clematis Climbing Wall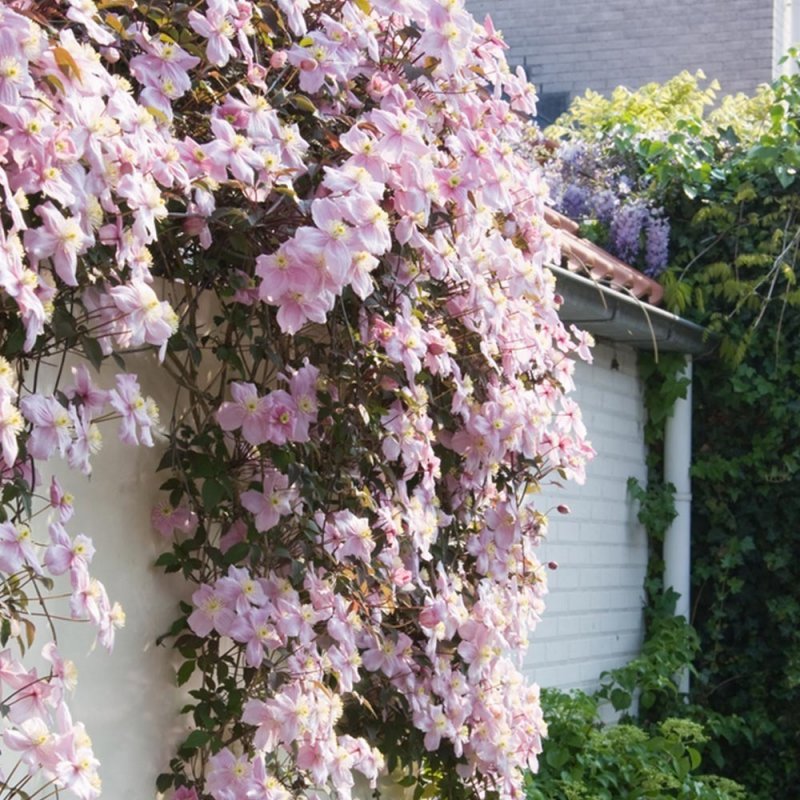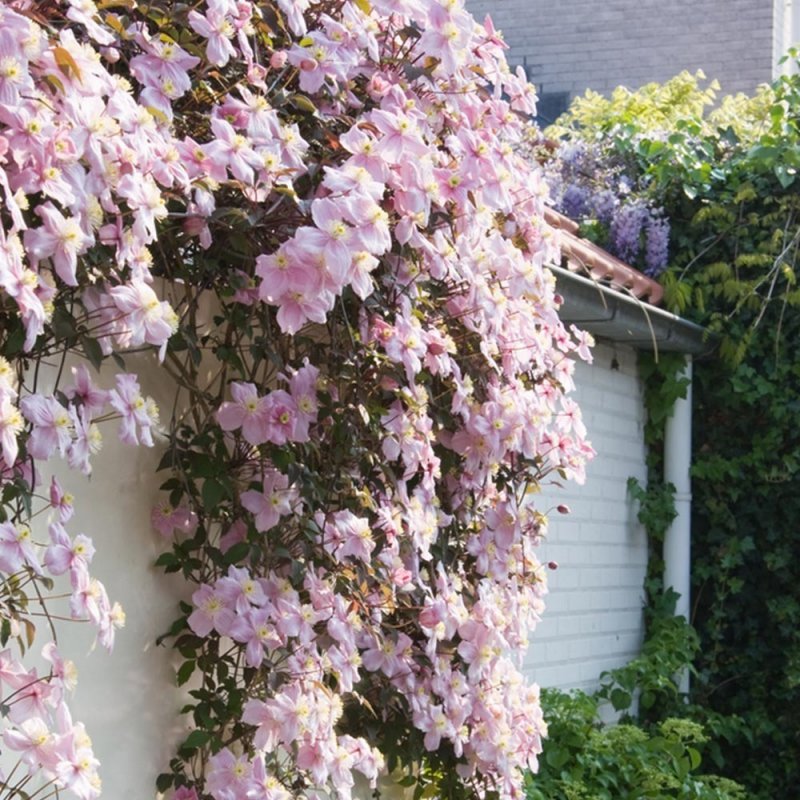 Do you want to hide that ugly wall or fence? As a substitute to ivy, consider planting a few trellises for clematis. This beautiful flower comes in countless varieties as there are over 300 species available.
In this front yard landscaping idea, the designers make use of baby pink clematis that makes an elegant display in the outdoor space.
10. Vintage Bicycle Planter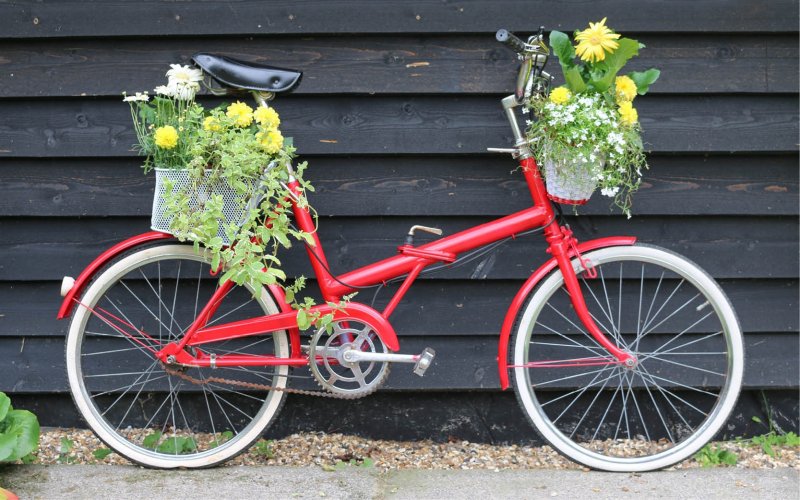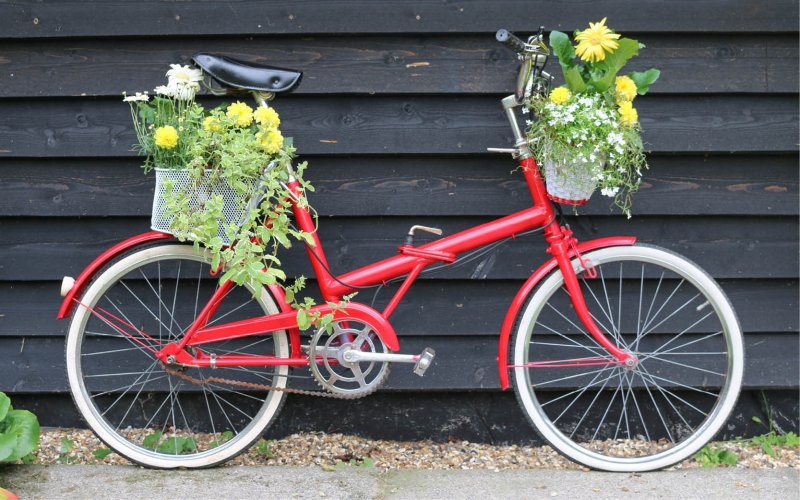 A vintage bicycle planter like this one will add a touch of whimsy into your front yard. If you have an unused bicycle, turn its front baskets to a planter for displaying your favorite flowers.
You can lean the bicycle against a wall or a tree. If you want to include more decorative touch, add an antiqued sign.
11. Circular Flower Bed under Trees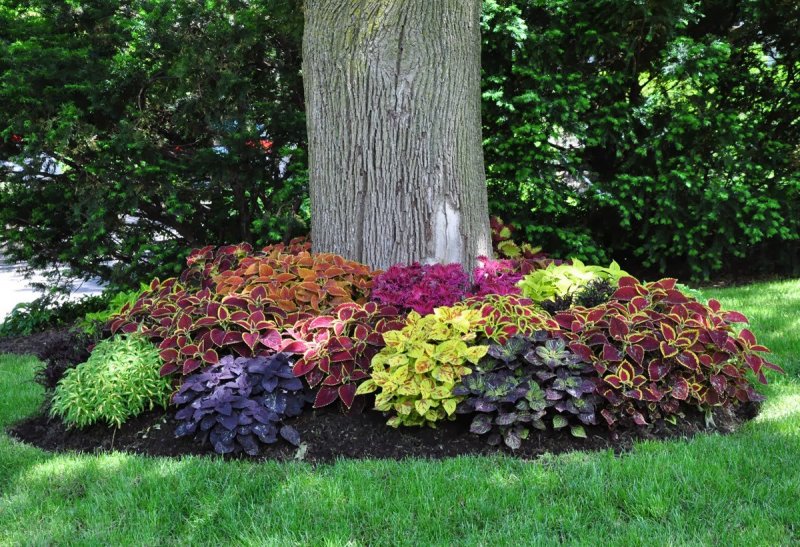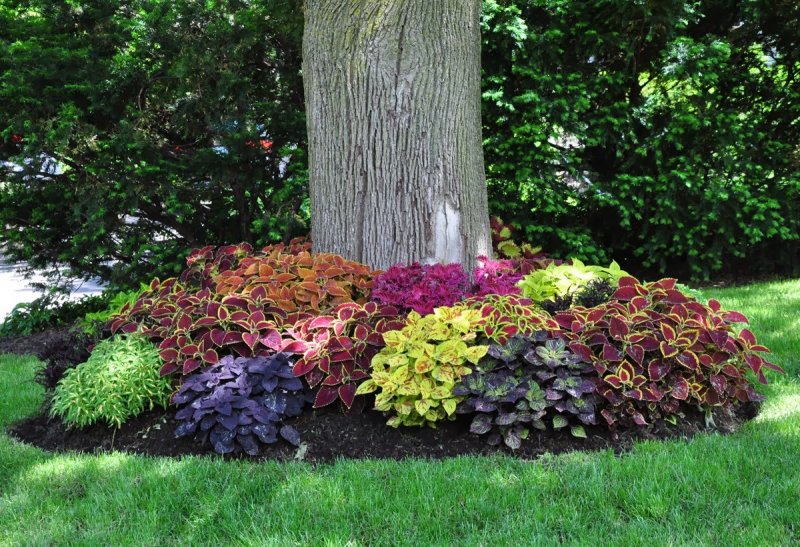 The space beneath shade trees can be a great area to apply a front yard landscaping idea. While most annual plants are commonly sun-loving, swap them out with a variety of evergreens and groundcovers.
To make the most of the display, keep the color of your plants varied so that it can make a pop of color among the greenery.
12. Industrial Cinderblock Planter Bed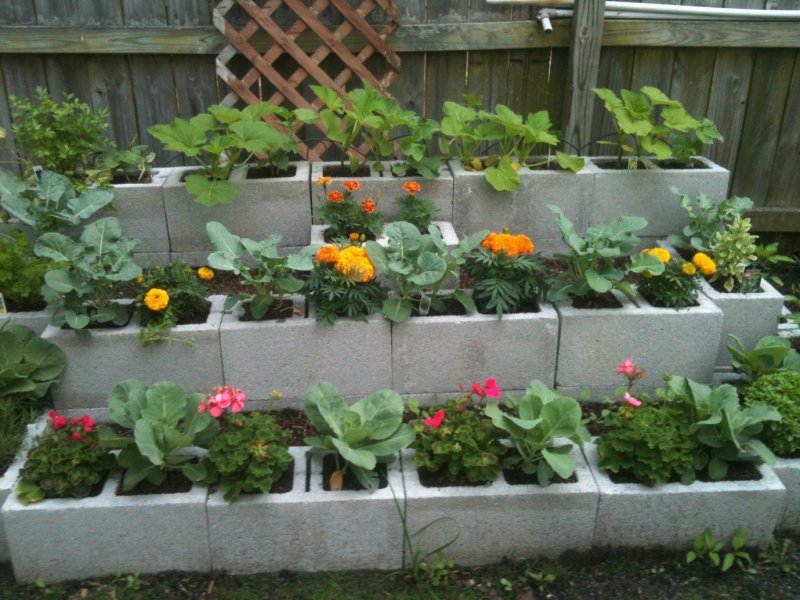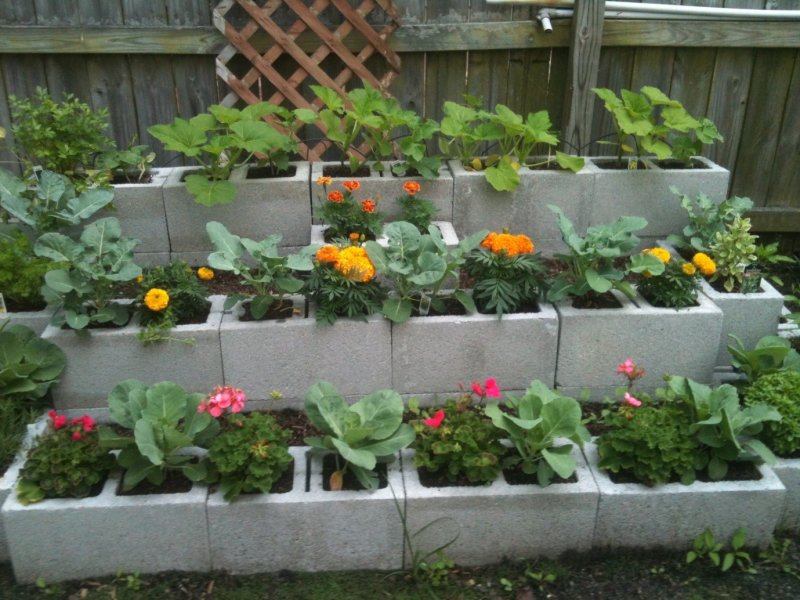 If you think a typical cinderblock planter must appear utilitarian and tasteless, think twice! By reeling the layout of your blocks, you can make small planters for succulents or even your favorite vegetables.
Rather than the plants displayed here, you can utilize other choices of plants such as hostas, ferns, evergreens, and so on.
13. Lush Hostas and Hydrangeas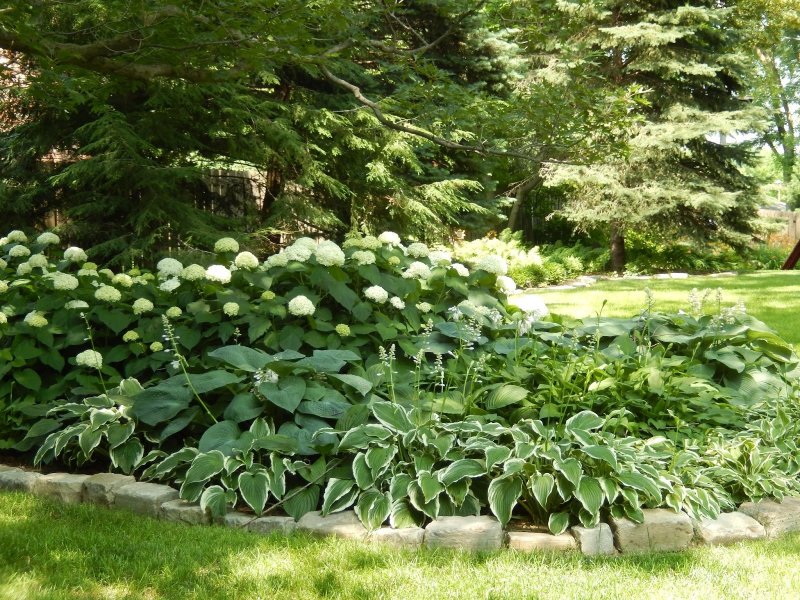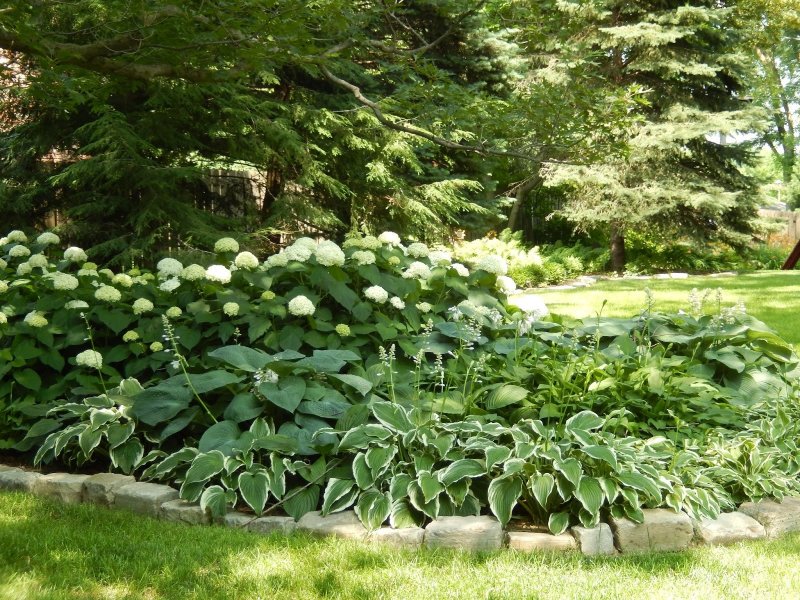 Cottage charm meets Southern elegance in this front yard landscaping idea. While it may seem so monochrome for many, the lush mixture of hydrangeas and hostas make a simple, yet pleasing summer and spring choice.
You can pair these two with several evergreens. Considering the types of these two, they can both suit a front yard with mature trees.
14. Water-Wise Water Feature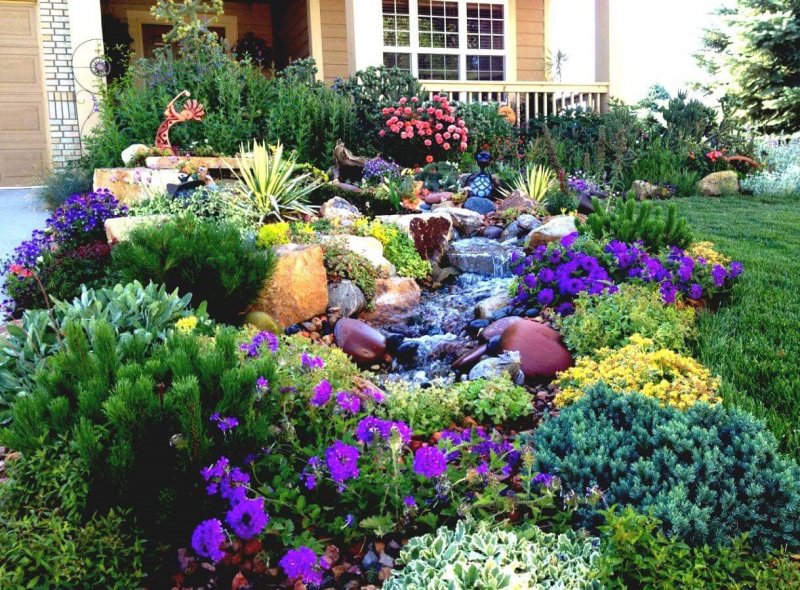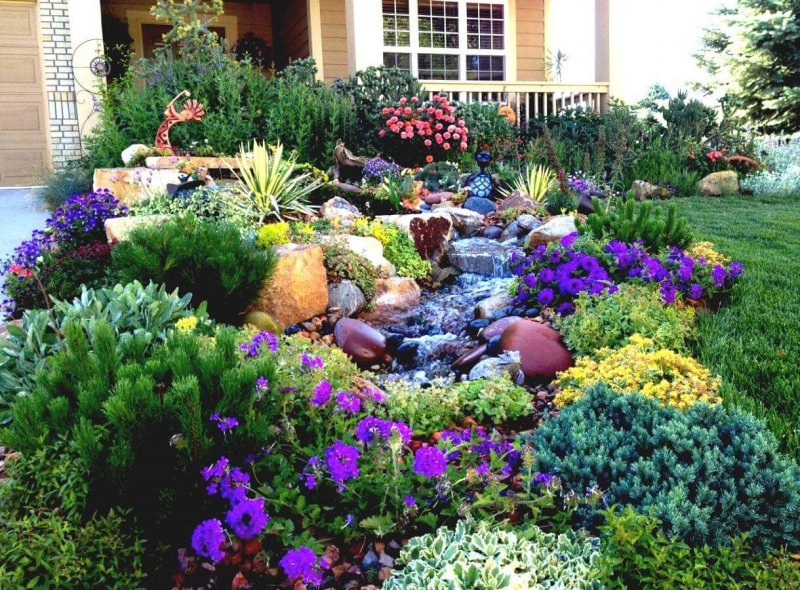 For you who are living in area with an unpredictable rain or where water resources are inadequate, opt for planting your front yard with drought-defiant flowers and foliage.
As displayed in this example, the water-wise garden doesn't need to mean a basic look. Lots of traditional flowers like roses are basically quite enduring in drier yards.
15. Graceful Mediterranean-Inspired Fountain Bed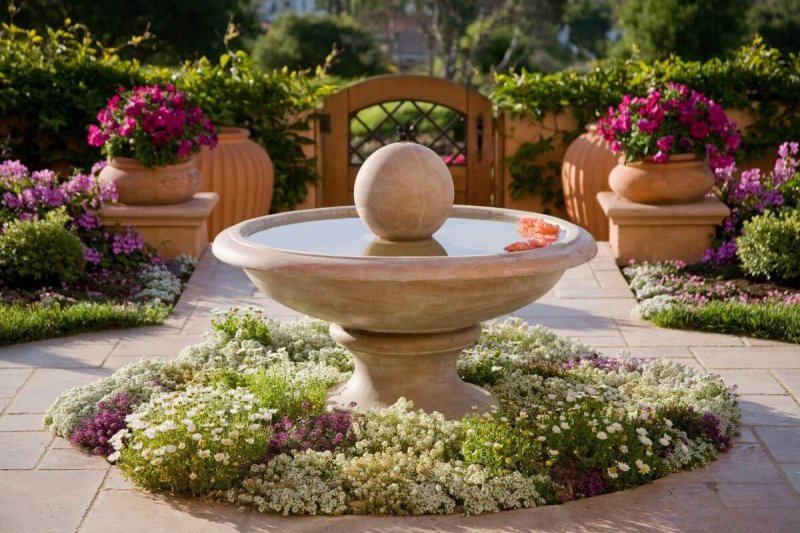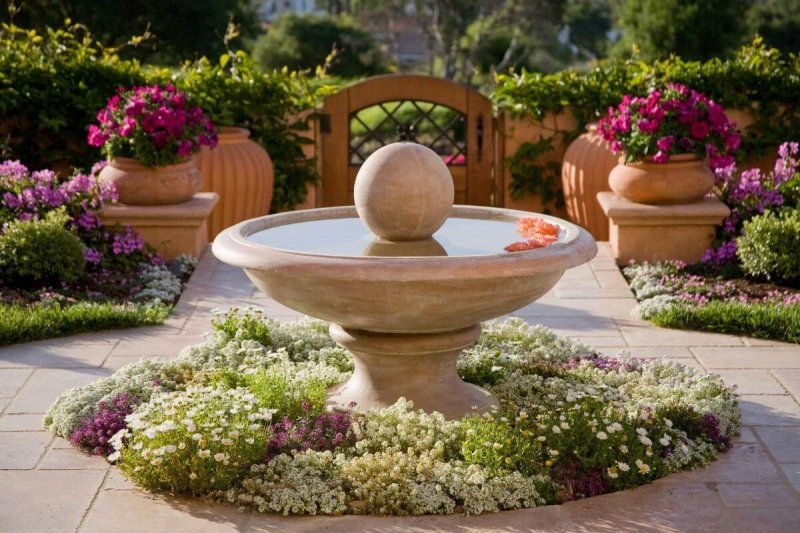 Mediterranean elements not only make your front yard landscaping feel more graceful and balanced but are another nice choice for drought-prone gardens.
The simple, but elegant fountain makes a highlight in this yard. Then, the flower bed creates a charming complement to the entire space. Consider planting water-wise groundcovers and annuals around the fountain like shown in this example.
16. Easy Care Evergreens Entryway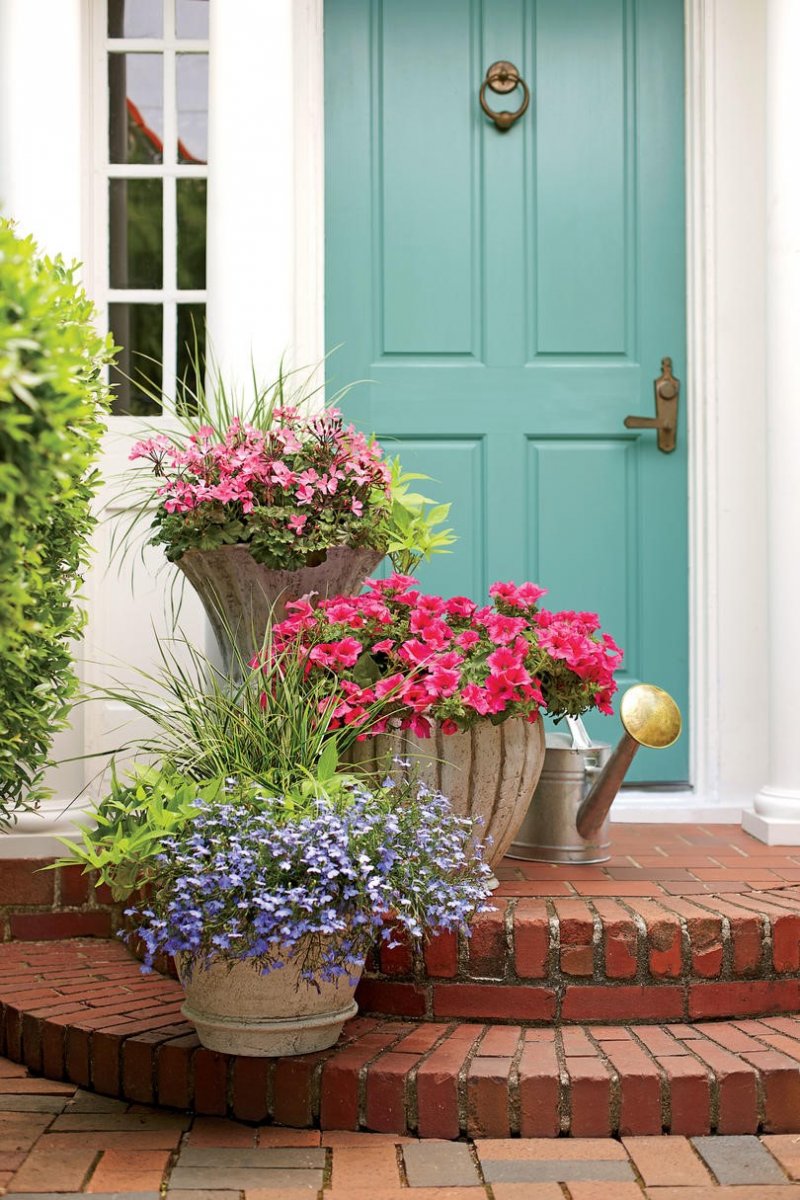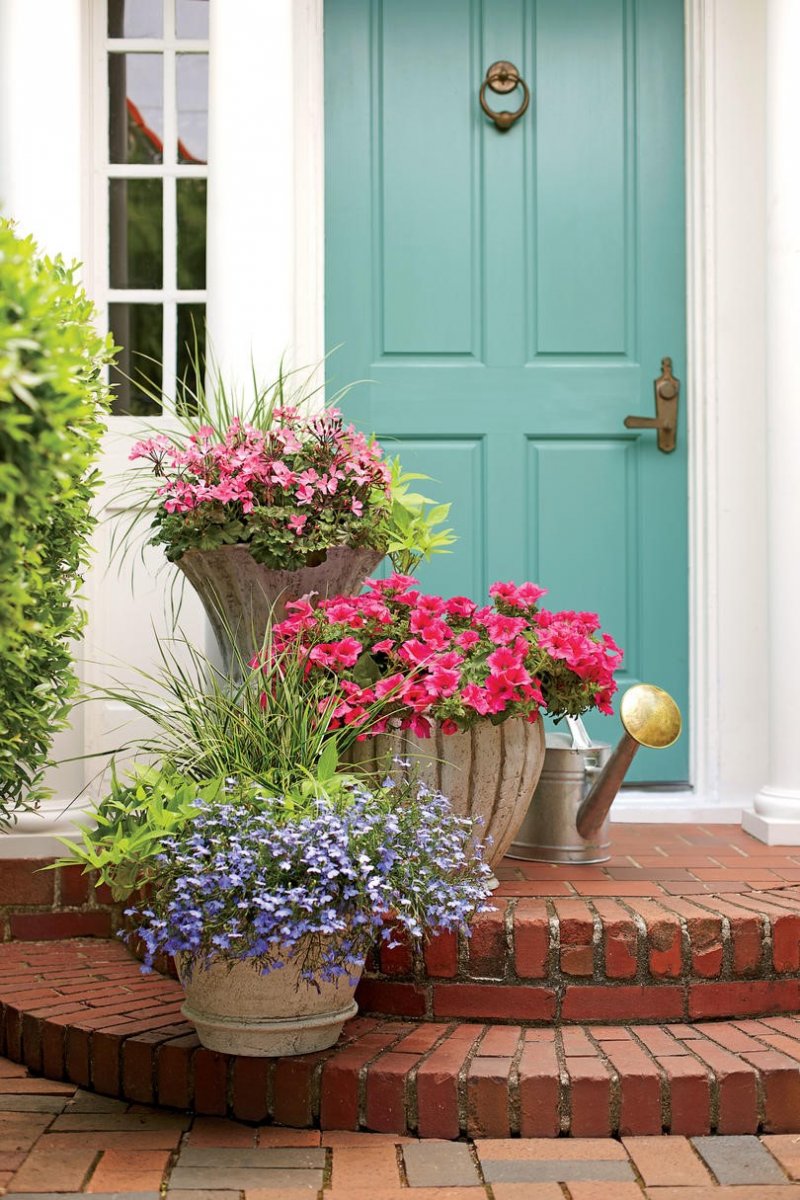 Do you have no time for gardening but you want an elegant entryway landscape? Evergreens like junipers can be your solution. They need typically little watering, are hard to kill, and can stay green throughout the year.
To give more colors into your landscape, consider adding a few annuals which come in various colors too.
17. Modern Stone Gravel Planted Beds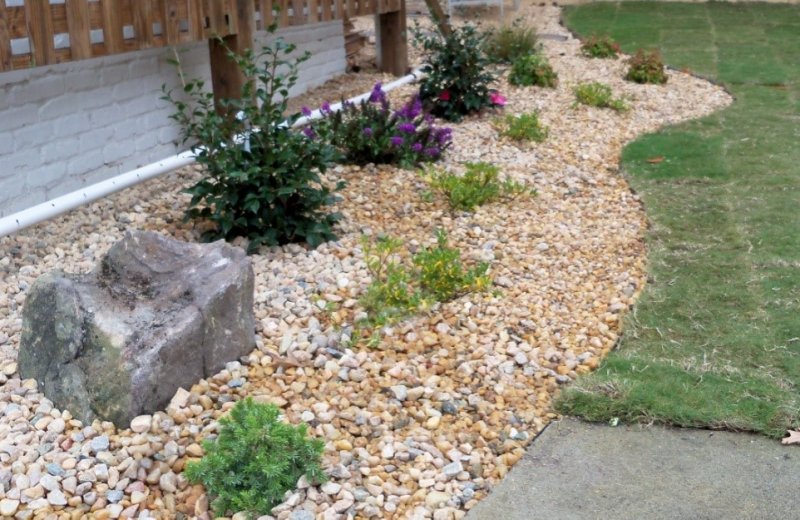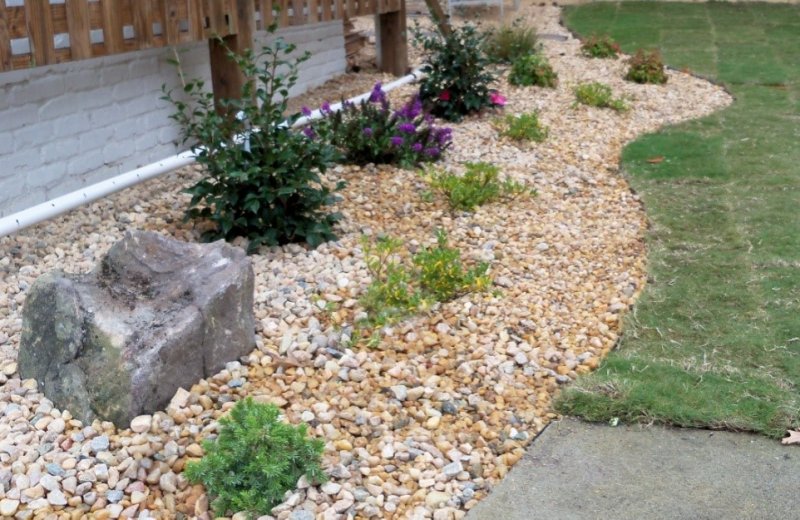 If you love the tranquility and clean lines of stone gravel beds, you can enjoy the spa-like sophistication of this front yard landscaping design.
The contrast between the gravel planted beds and the tidily clipped lawn create this look perfect not only for a house but for a business building too! Add low-maintenance shrubs and perennials to complete the landscape.
18. Rural Log Planters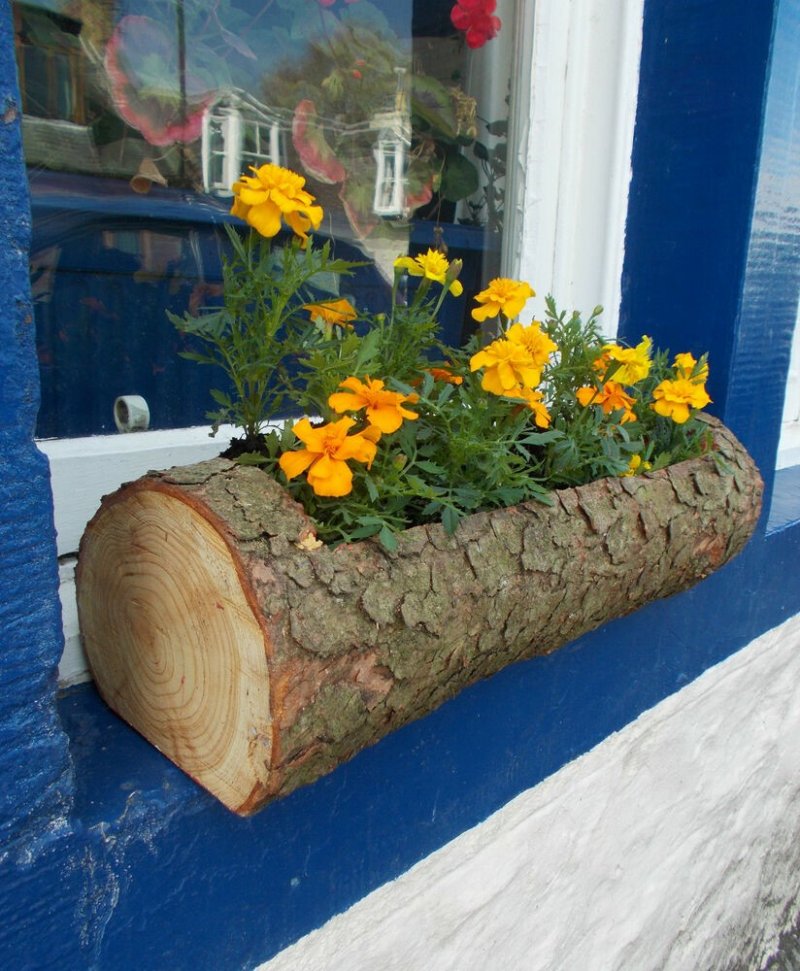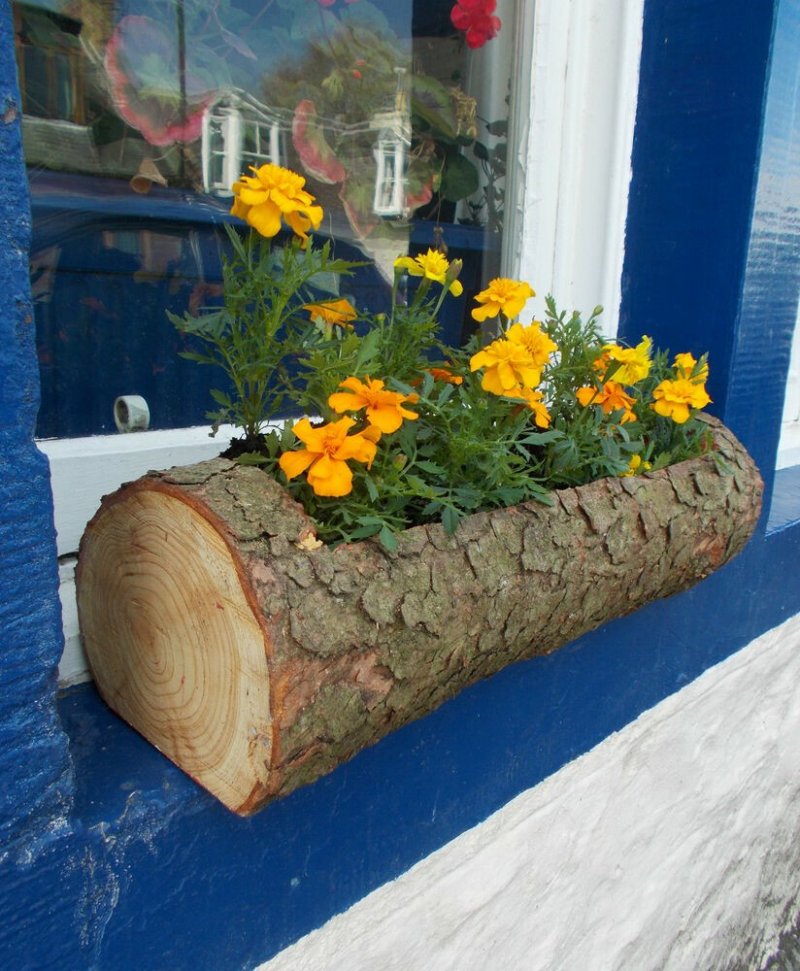 A unique planter has always been a perfect way to enliven a particular area of the front yard. As an alternative to plastic or concrete planters, log planters can be a good choice.
You can simply add the planter in a home with a rustic garden or you can put the planter on the window box like this.
19. Hanging Petunias Baskets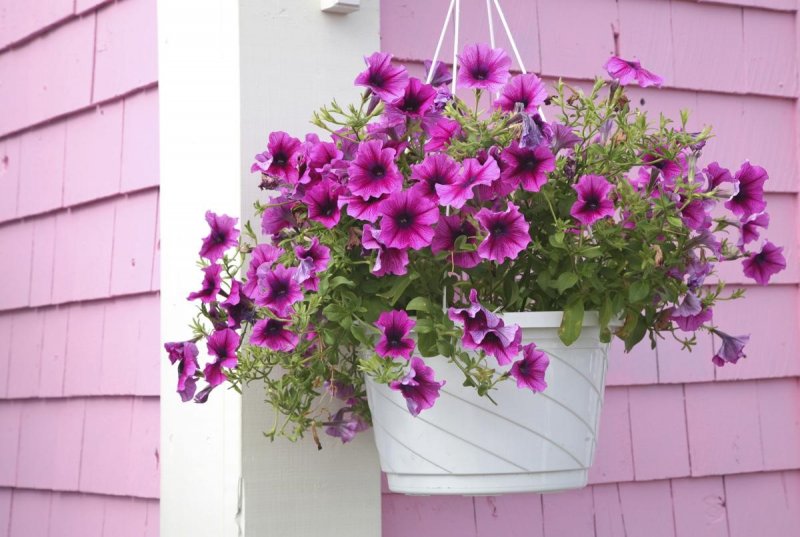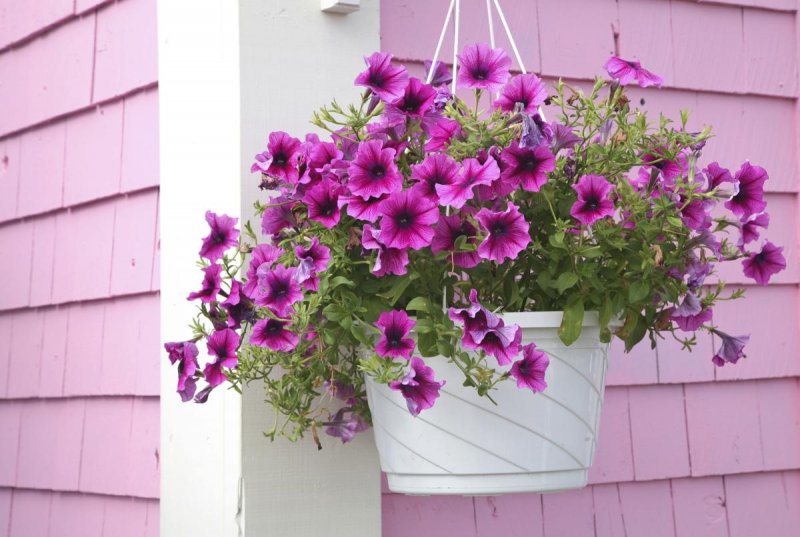 Petunias are frequently neglected by experienced landscapers, but this tough flower can not only bring beauty to your front yard landscaping idea but can also be the star of the display.
Instead of hanging only one basket of petunias like this one, you can consider hanging some baskets of petunias which come in different colors.
20. Desert Landscaping Front Yard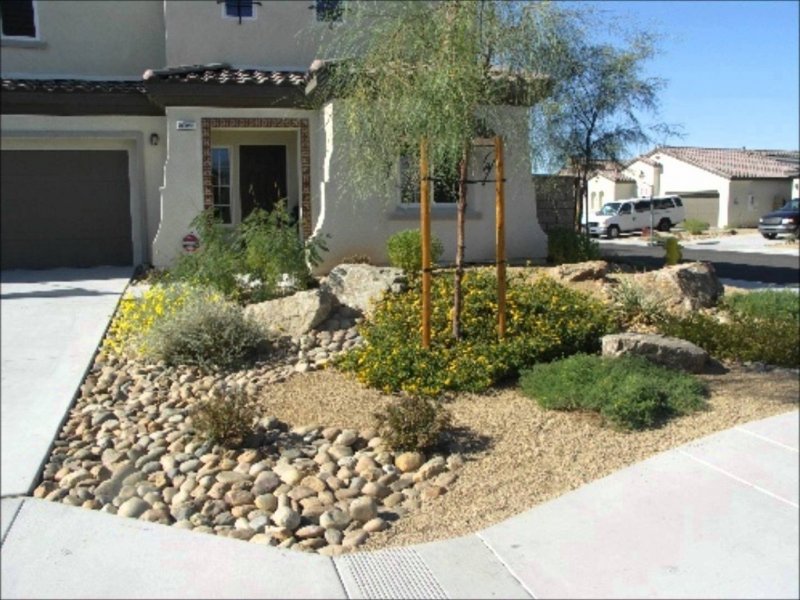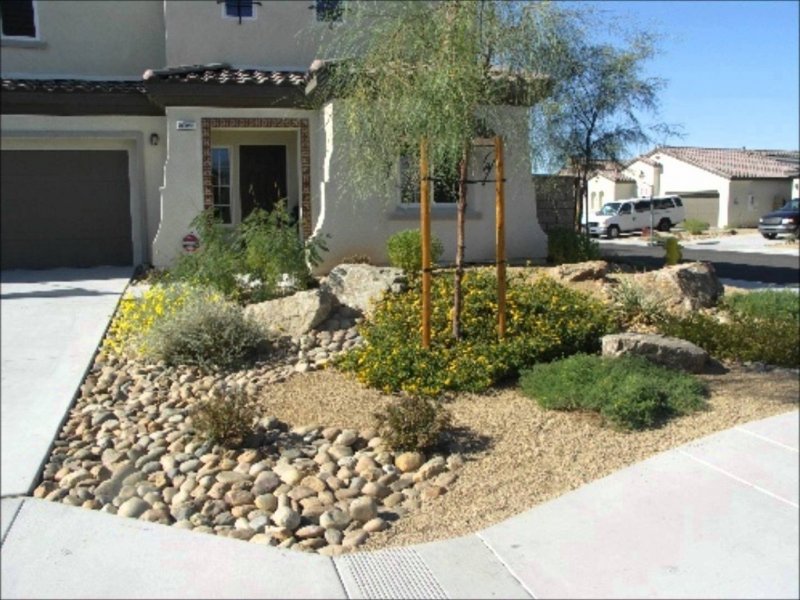 The neutral tone and clean look of a modern house is an ideal aesthetic match for this landscaping idea. You can pair native desert plants with yellow kangaroo paw.
Like in this example, among the green bushes there are abundant displays of yellow flowers that make a wonderful appearance to complete this desert landscaping.
21. Tree Stump Planter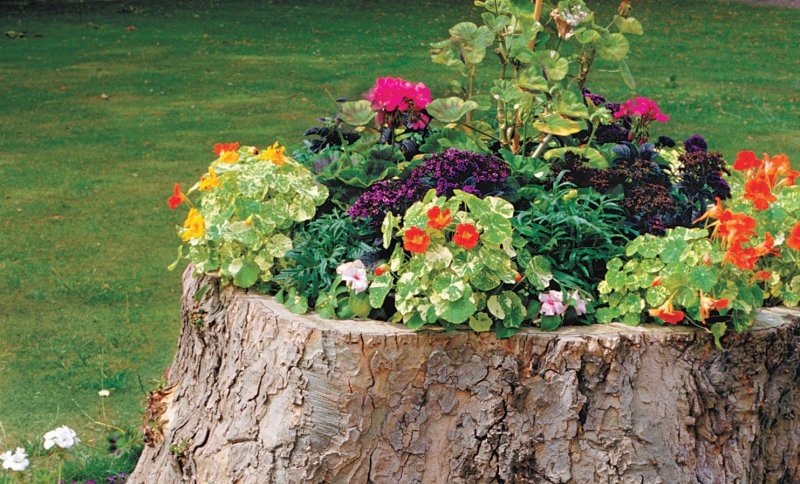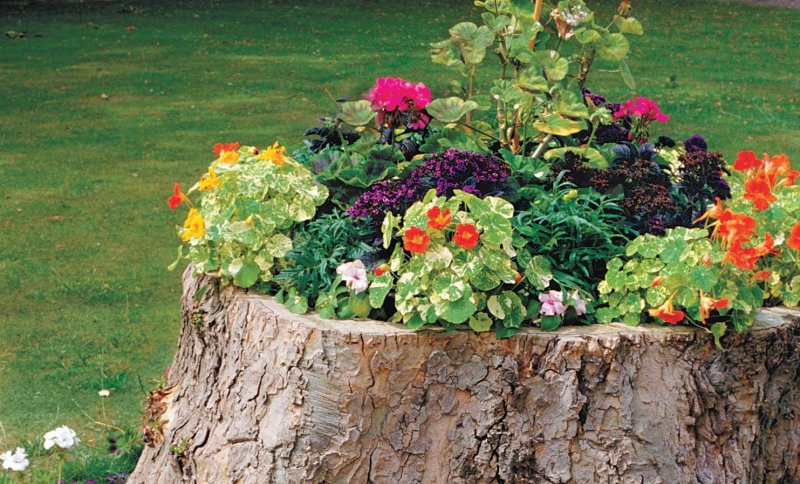 Tree stumps are typically expensive and hard to remove. Rather than ripping out the stump after a tree is removed, why don't you turn this eyesore into a pretty feature within your front yard landscaping?
In this example, the tree stump becomes a house of some beautiful flowers. This kind of display can be perfect for rustic and cottage-style gardens.
22. Appealing Coleus Flower Beds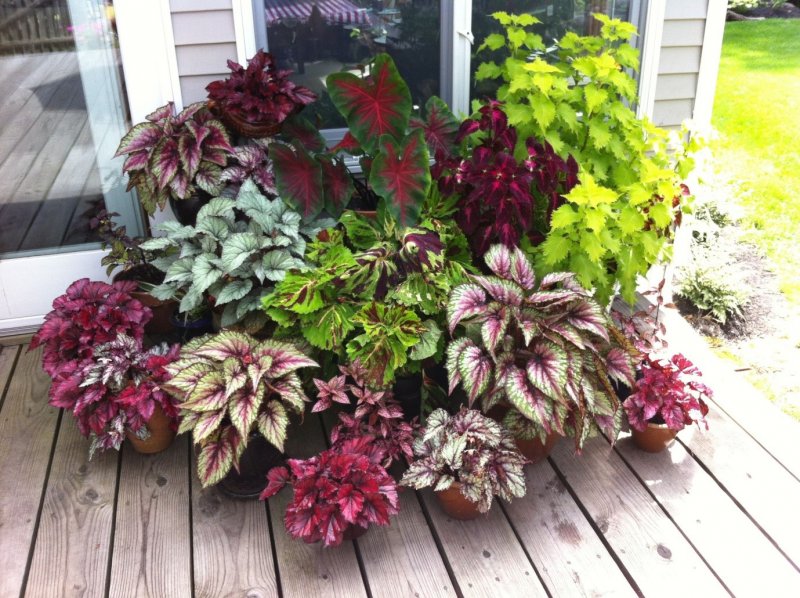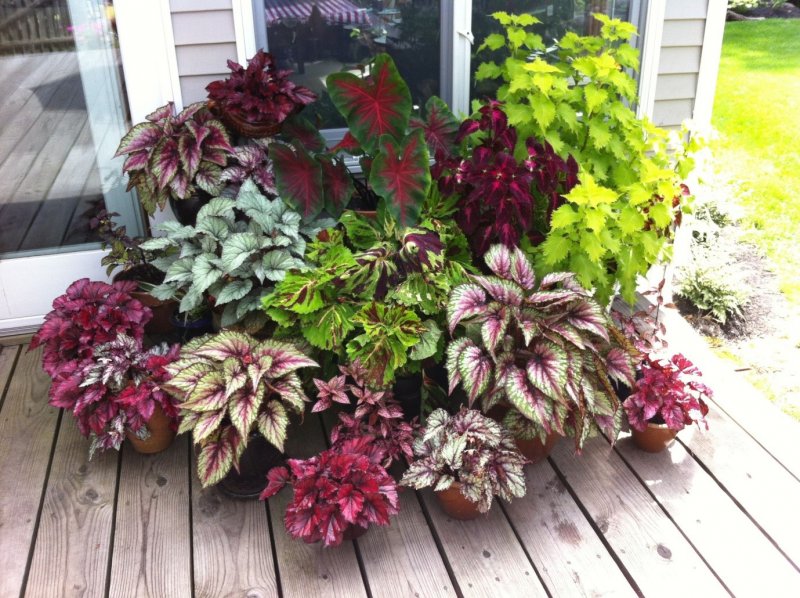 Flowers are no doubt beautiful, but lots of annuals have a restricted lifetime and perennials require some effort to maintain.
To splash some colors to your front yard without any need for flowers, attempt to incorporate dissimilar varieties of coleus like this one. You can vary your "flower" bed with some hostas, too.
23. Exceptional Mailbox Flower Bed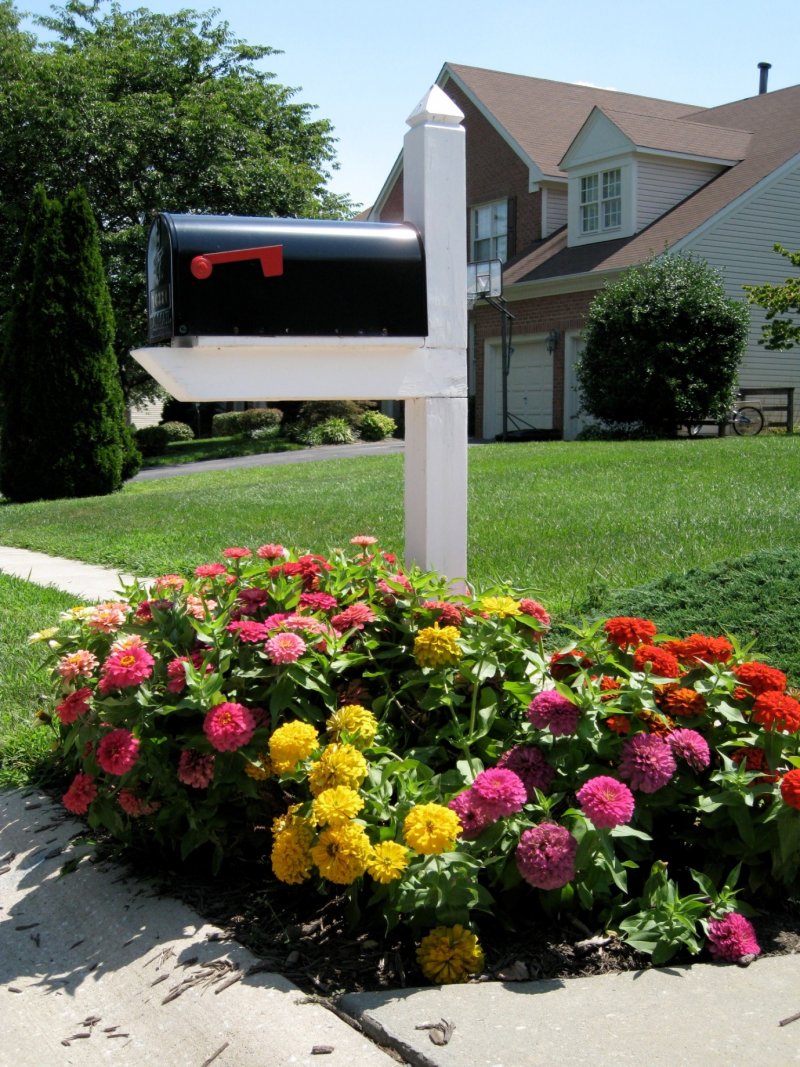 This idea is calling for you who aren't lucky enough to have such a big front yard. Put your attention to the empty area under the mailbox and make it into a unique flower bed like this one. You can use some groundcovers and annuals to make a little bit showy display under the mailbox.
24. Chic Japanese Garden Beds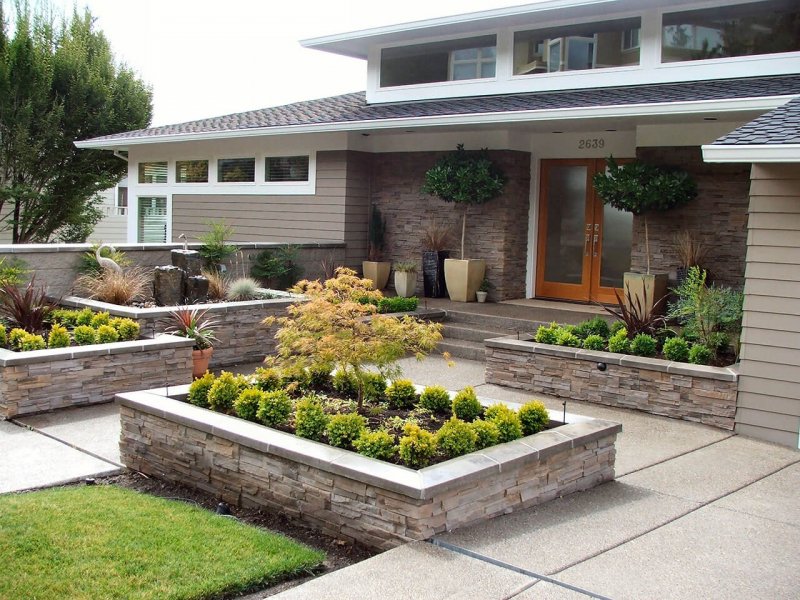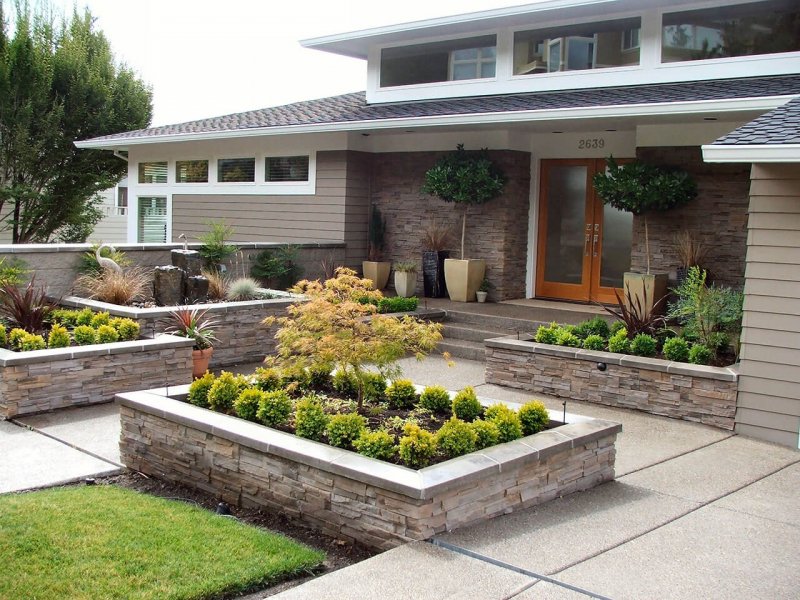 This daring look is ideal for modern or mid-century homes where the architecture of the home goes well together with the structured beds.
In this front yard landscaping idea, the homeowner has smartly matched the stones used for the garden beds and the outdoor walls. Then, the Japanese maple becomes the central point of the show.
25. Stone Edged Flowerbed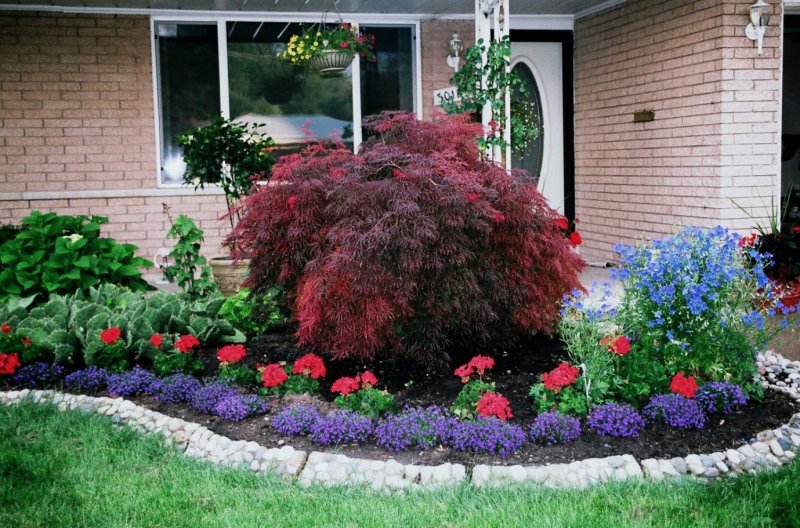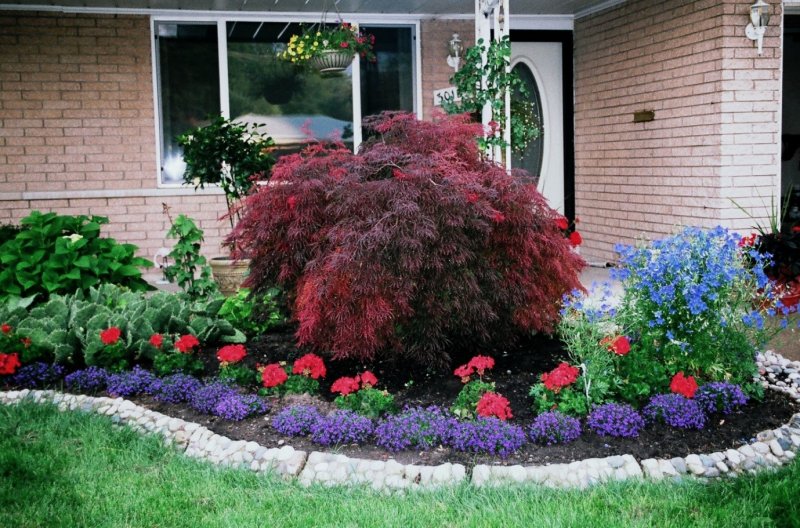 If you are looking for an easy way to build and define a flower bed, taking a stone into account will be an excellent choice.
As you can see in this example, the stone border helps sculpt the landscape and make a nice contrast between the flowerbed and the green lawn. It's perfect for any garden style.
26. Signpost and Plant Hanger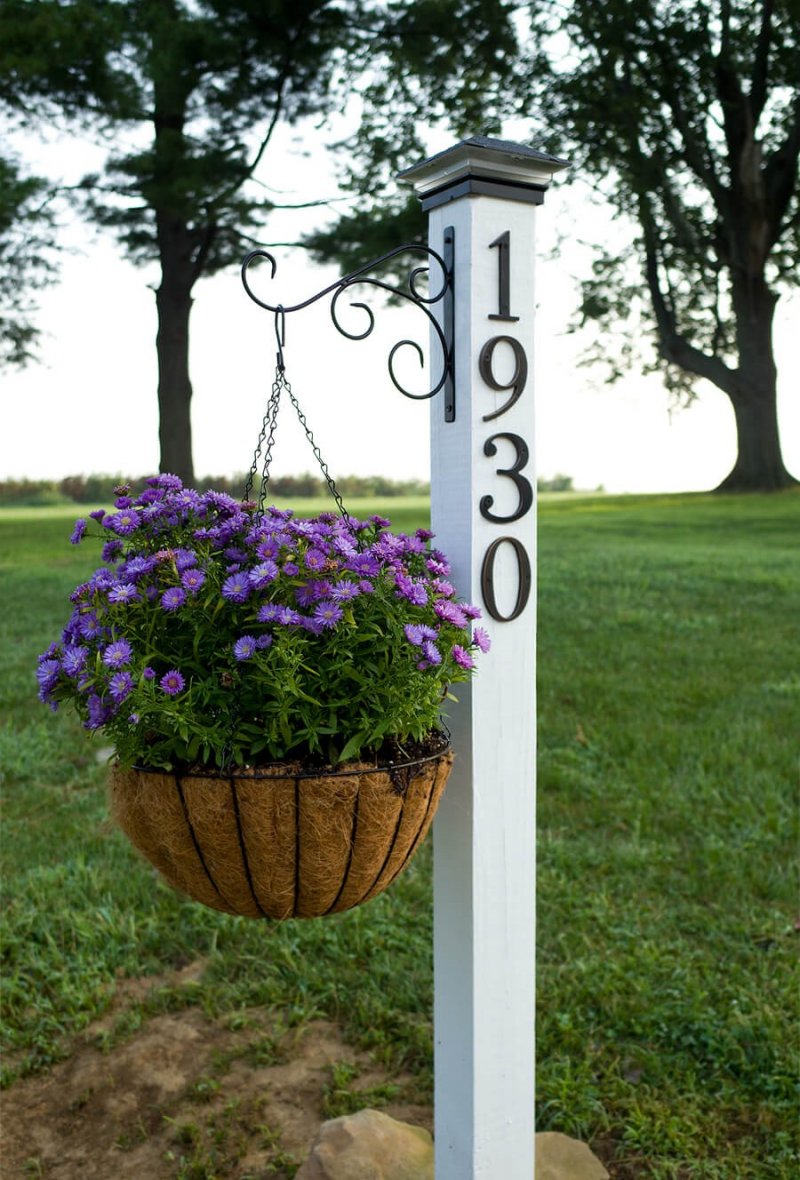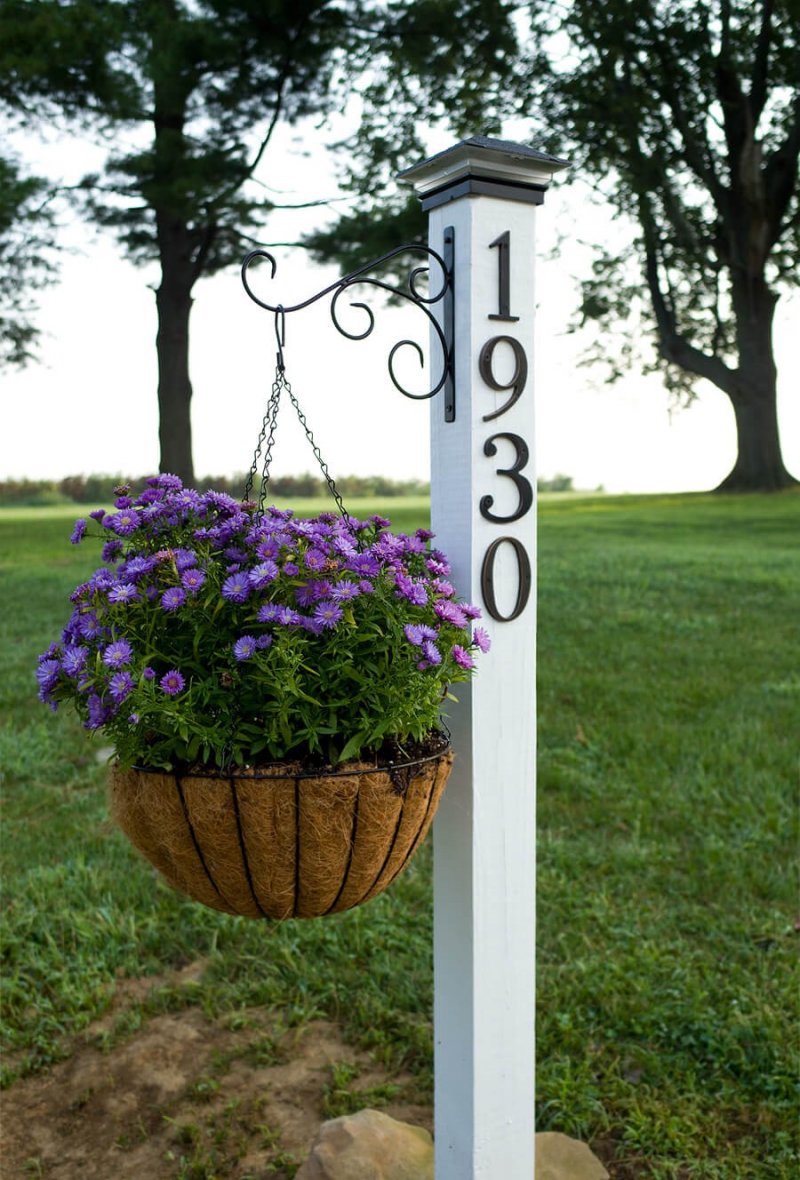 This creative sign post lets you show your house number as well as displays a hanging basket. If you own an outstanding garage or your home is placed back from the road, this idea must be perfect for you. On the plant hanger, you can display a flower of your liking like the one shown here.
27. Modern Lighted Pathway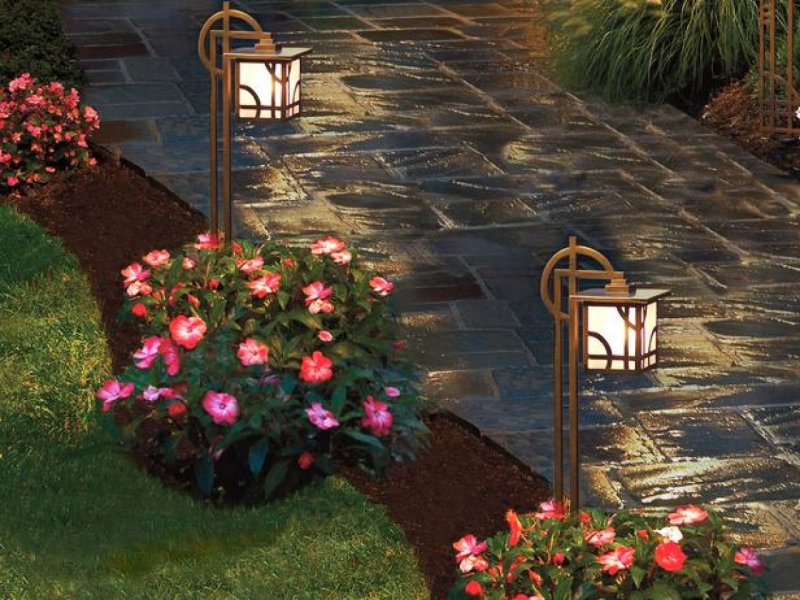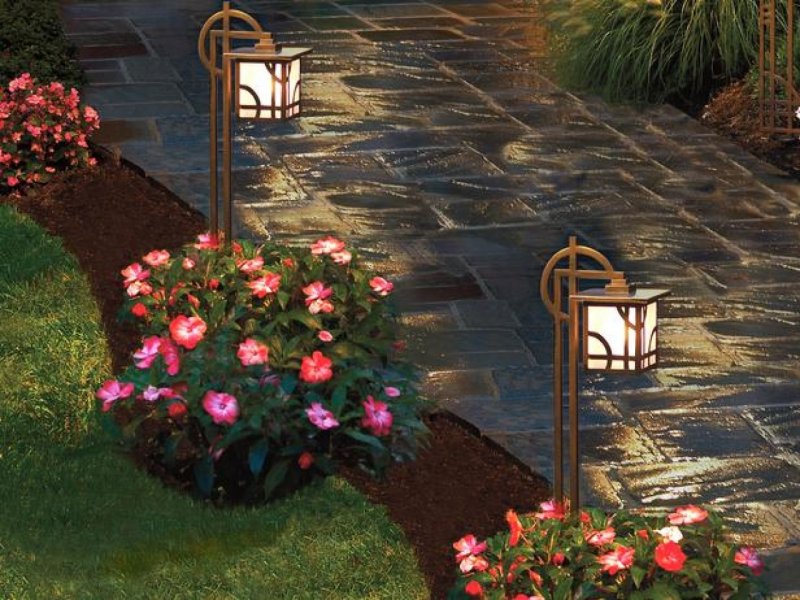 These metal garden pathway lights are an ideal alternative to the traditional lantern-like pathway lights. While path lights aren't commonly necessary, they can still offer a more inviting feeling to your home's entryway.
For your front yard landscaping idea, simply update this one component and you will find your outdoor space looks even more beautiful especially at night.
28. Breathtaking Rose Arbor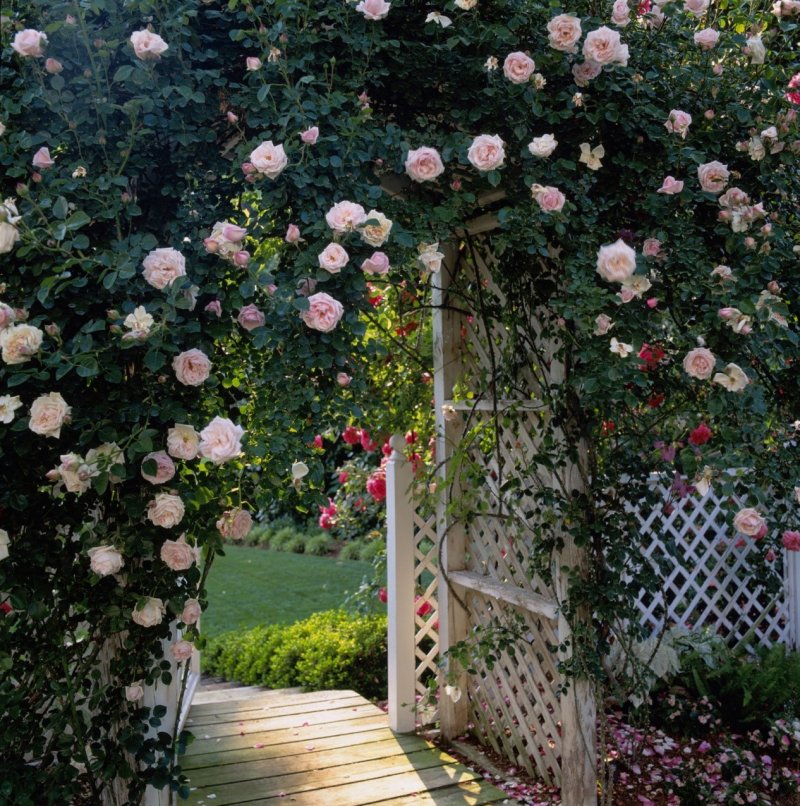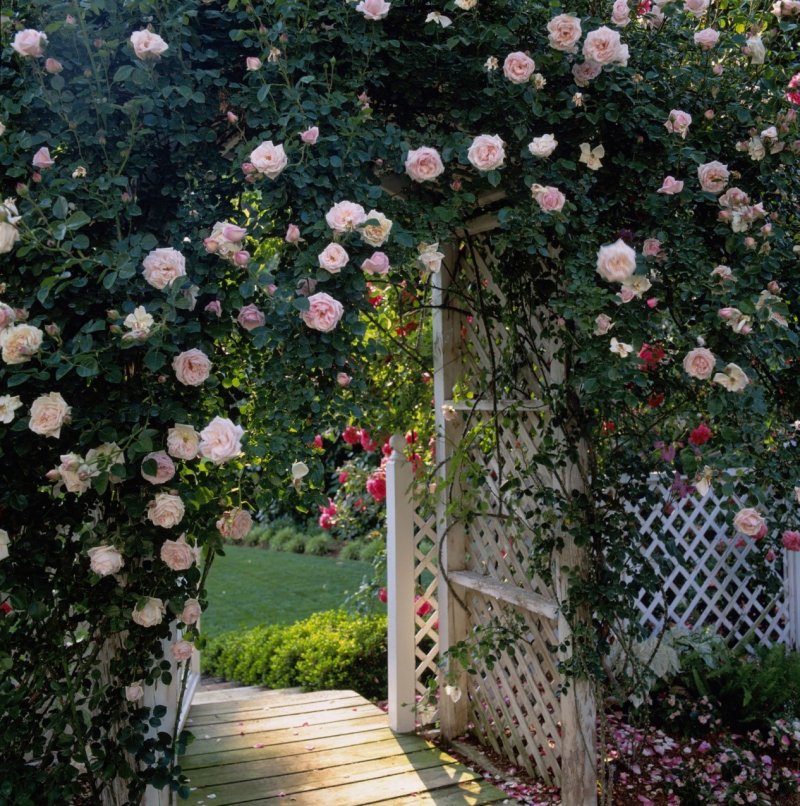 There might be other things more romantic than roses. However, this white picket fence which is overflowing with roses is just breathtakingly beautiful.
Pink roses like the ones shown here are always safe options for front yard landscaping. However, you can also go bold with red roses to present a brand new look.