Blossoms and buds along with the lush greenery offer such a lovely scene, especially when spring is around the corner. A better way to witness all this beauty is by sitting on an outdoor bench that you put around the yard or garden. This way you can get relax amidst the new life!
Even if you don't want to enjoy the spring, you will want to enjoy the fruits of your hard work. Just remember you've worked so hard in turning the yard into such a beautiful outdoor space. You'll surely want to take time admiring the result of your labor.
Now the question is: what should you put out there so that you have somewhere to sit and enjoy the lovely garden? Indeed, a bench can be a good idea. But, what kind of bench exactly that deserves a part of your outdoor space?
When there are countless benches out there that are ready to use, creating one yourself can be a perfect solution for making the most of your outdoor space. With some supplies, tools, time, and creativity, it isn't extremely impossible!
Once you decided to create the bench yourself, you should get ready to explore some innovative, fun, simplistic, and exotic ideas for your DIY project. With a little inspiration, it's no doubt that you'll be on your way.
These DIY outdoor bench ideas come together with surprising materials and provide the ideal place to entertain or ponder outdoors. Then, are you ready to make your own nature seat and be sitting on the bench you've created later on? If so, let's check this out!
1. Rustic Multi-Use Storage Crate Bench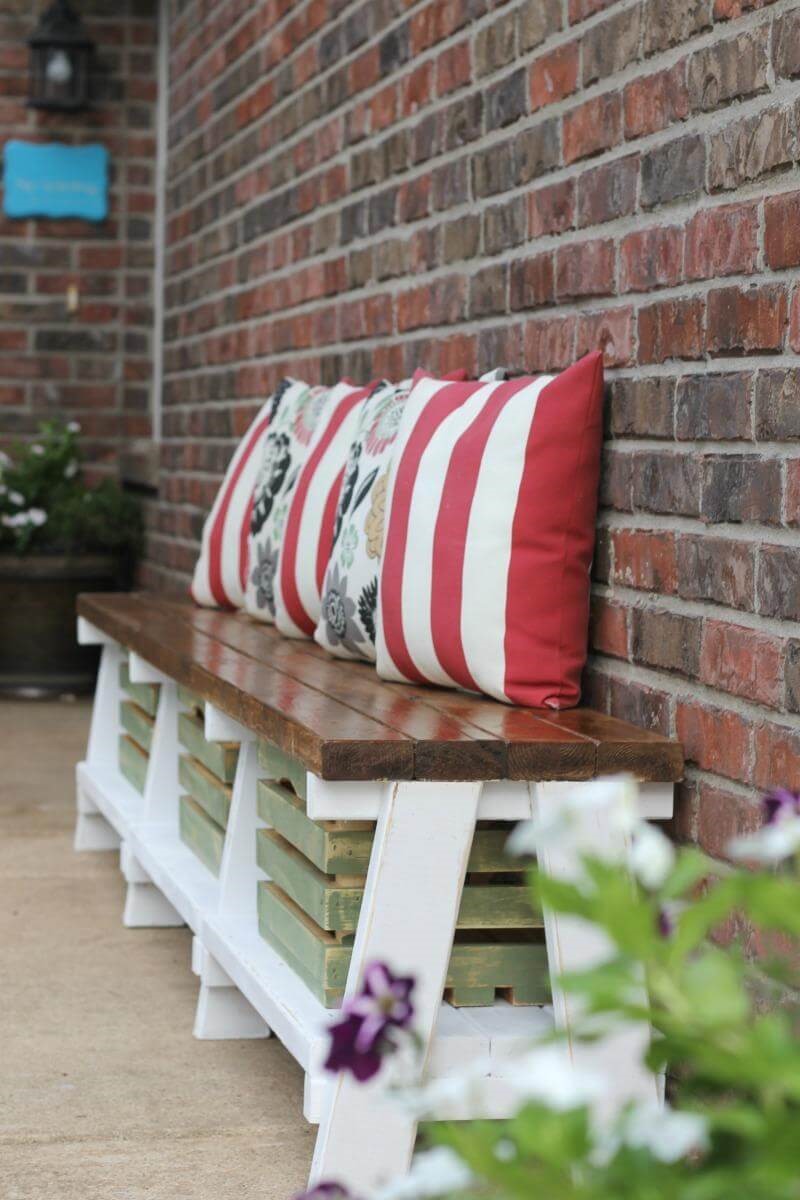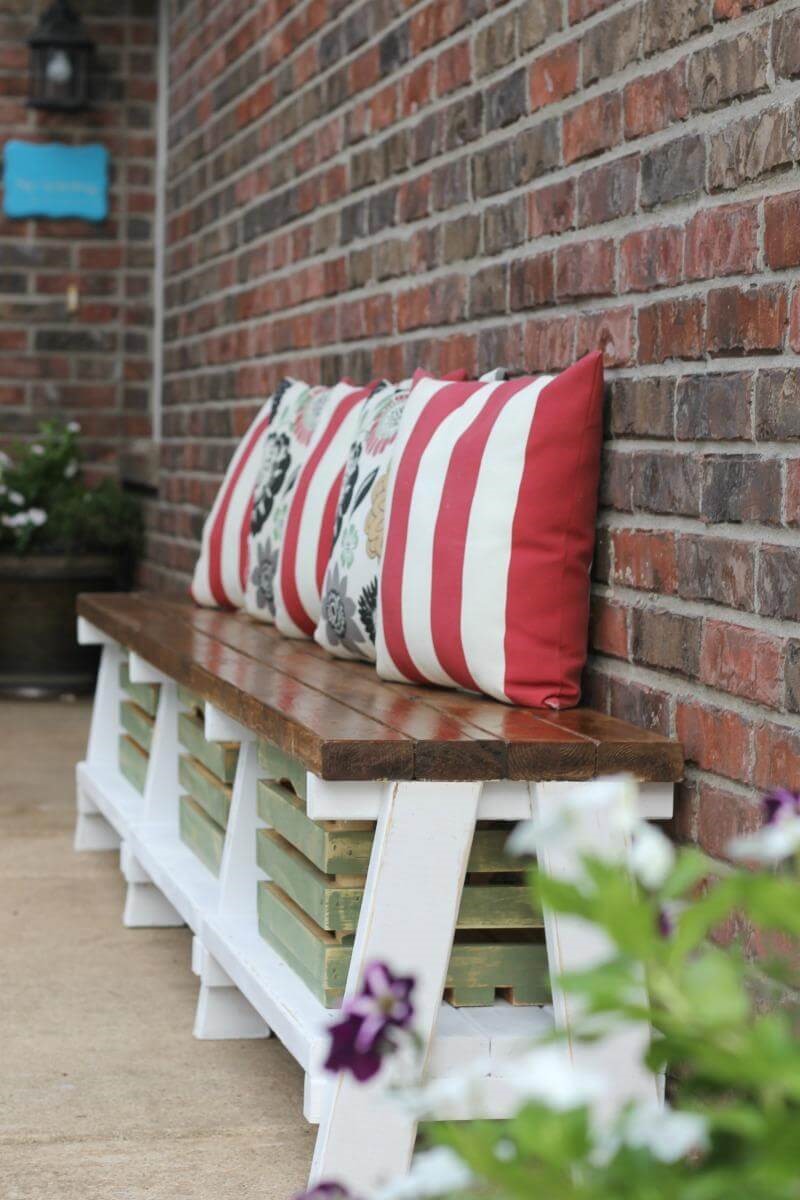 This lovely bench has three wooden crates placed under the seating area. They can be perfect for any storage needs.
Then, you shouldn't miss the color combination of brown, green, and white wood in this bench too, making it an ideal complement for an exposed brick exterior. Since this bench needs frills like armrests or cushions, put some on top.
2. Antique Head-Board Bench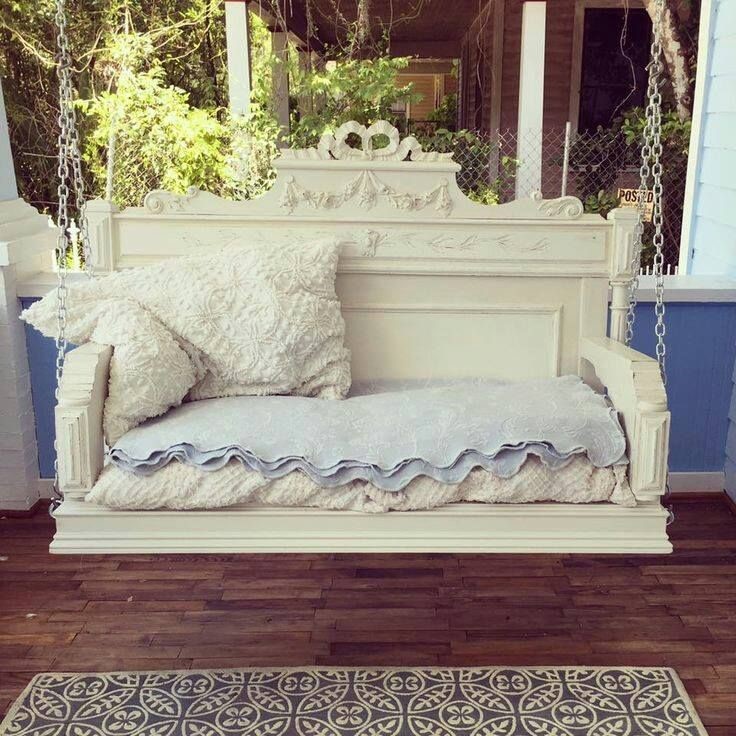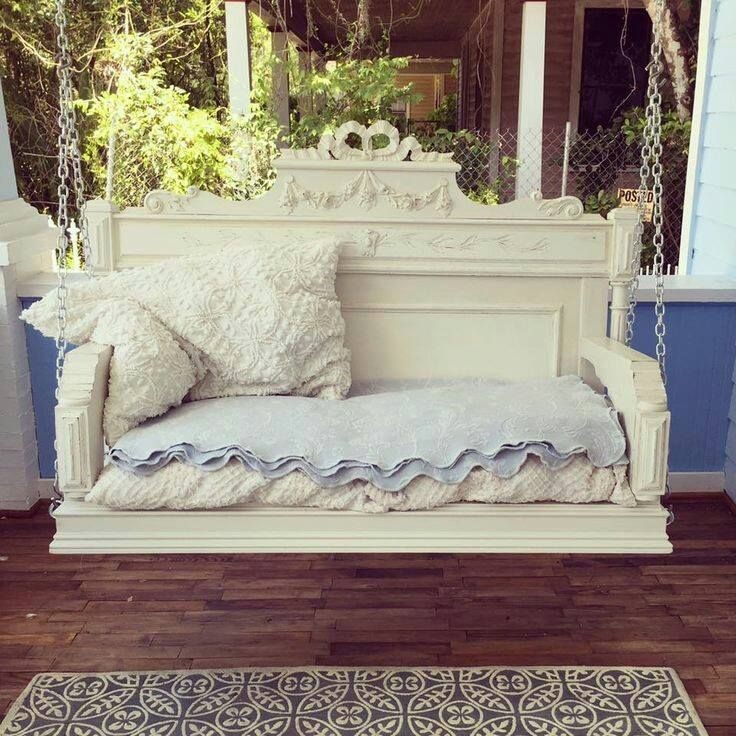 If you find an old antique headboard at a thrift store, don't hesitate to buy it! This is one of the primary elements you'll need to create this beautiful headboard bench.
Consider installing fluffy cushion just like this outdoor bench for a comfortable seating area around your outdoor patio. It provides an ideal place for a short nap in the afternoon.
3. Tuscan Style Contemporary Bench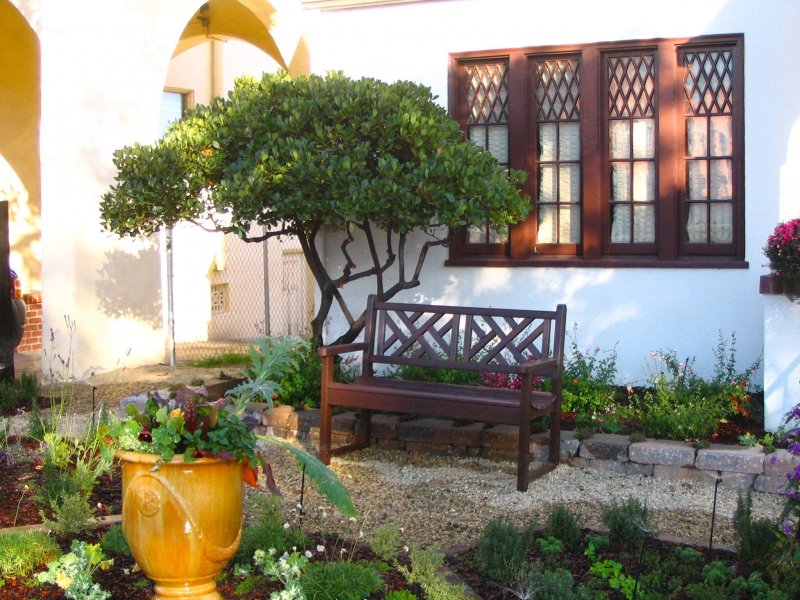 With its open back, this Tuscan style bench would look amazing on your front yard. Big enough for two people, it can be a nice addition to any outdoor space.
In this example, the bench is furnished in natural wood color so that it would look nice in any neutral colors. You can consider adding some cushions or pillows too.
4. Cinderblock Bench with a Pop of Color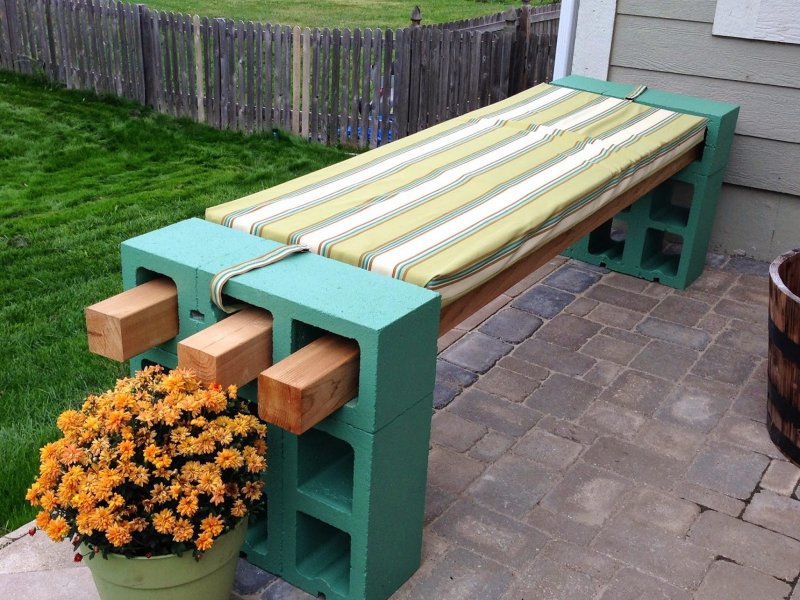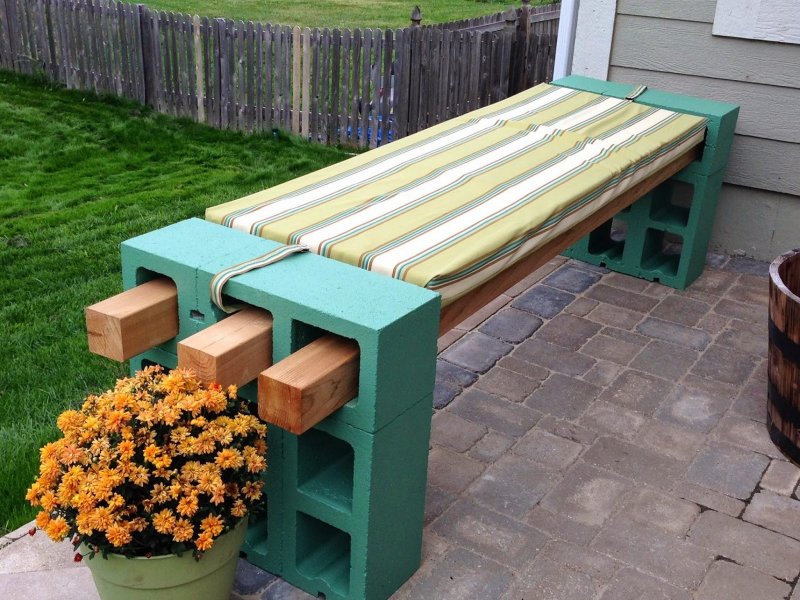 Created from repurposed cinderblocks which are painted in a bright color, this outdoor bench has a wooden seat and convenient cushions.
Wherever you opt for placing it on your outdoor area, it would look perfect. Consider setting a pot of flower next to the bench like this one for a beautiful outdoor patio.
5. Chic and Modern Patio Bench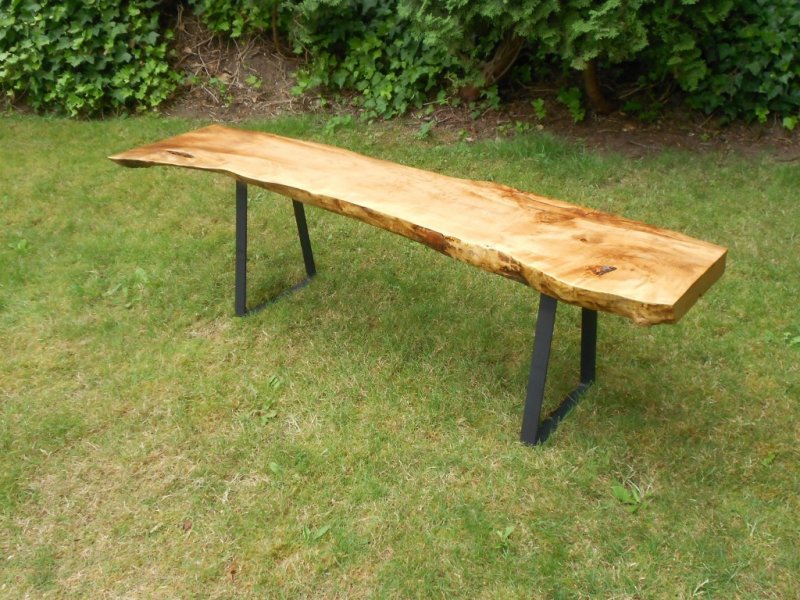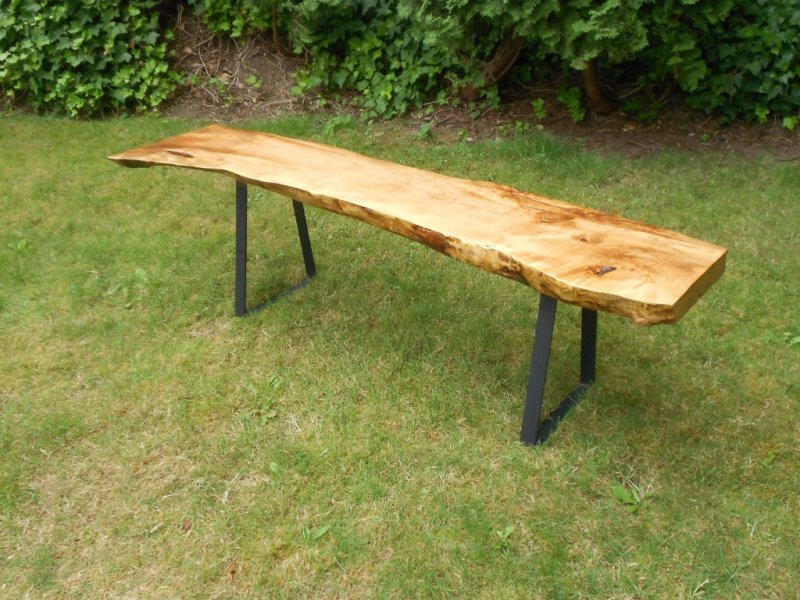 If you are looking for the ideal bench but don't want it to be similar to your neighbors', go with this modern bench!
The angular legs on this bench are exceptional. More interestingly, this outdoor furniture is small enough to easily move around to different areas on your patio. You can consider placing it next to your potted plants.
6. Modern Corner Bench with a Side Table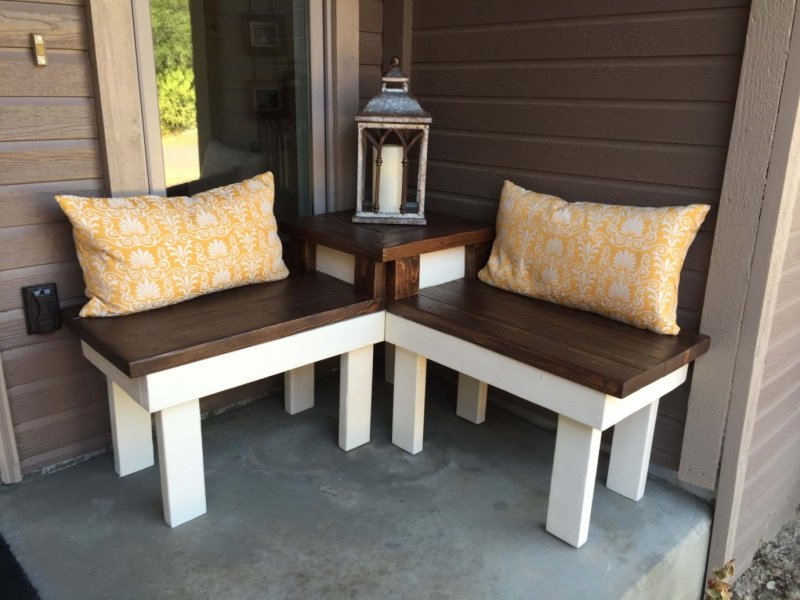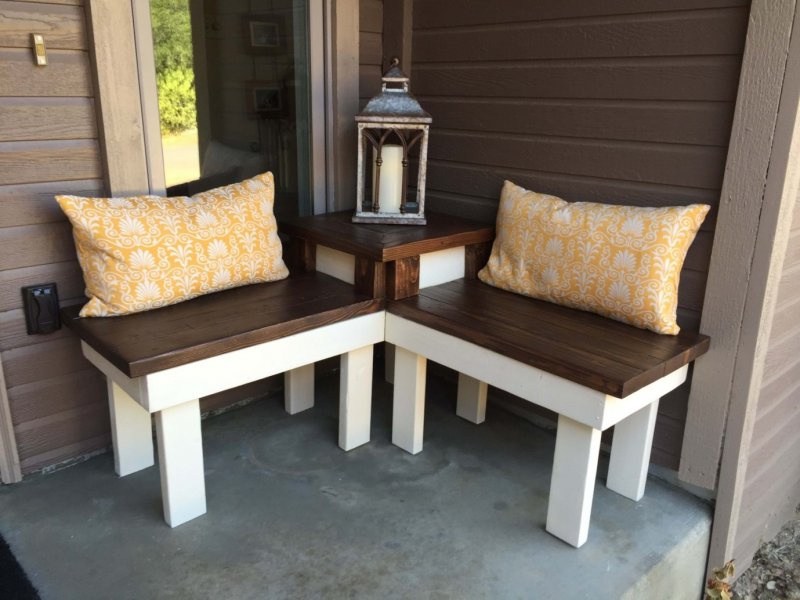 If you're lucky enough to own a large porch, you may like an outdoor bench that can make use of the empty space. This modern corner bench can be an impressive idea for you.
You will have a seating area that can hold multiple people with this bench. You can place a side table next to the bench too!
7. Modern Logs Bench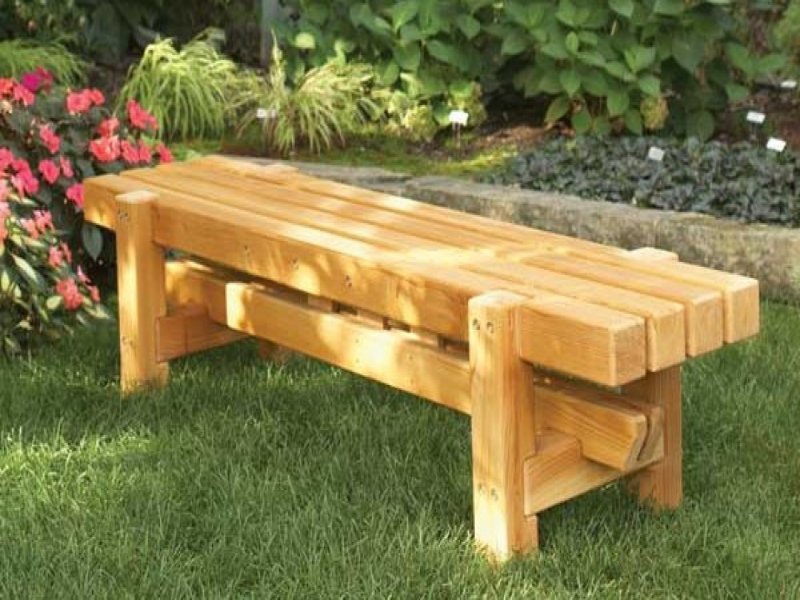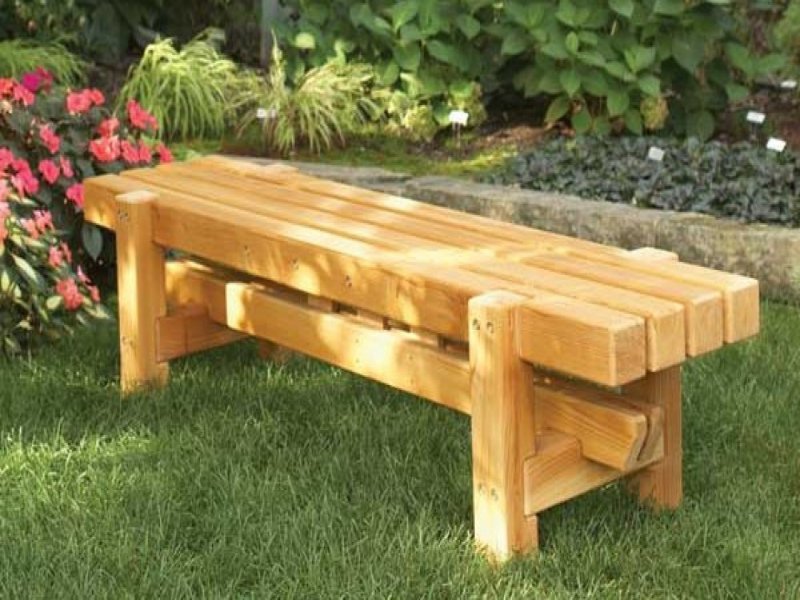 Built from heavy duty logs, this bench can be utilized as a seating area or a home for plants and other outdoor decors.
To get the most of the look, you should keep the bench sealed and stained with a downy finish to show up the natural beauty of the wood grains.
8. Stone Garden Bench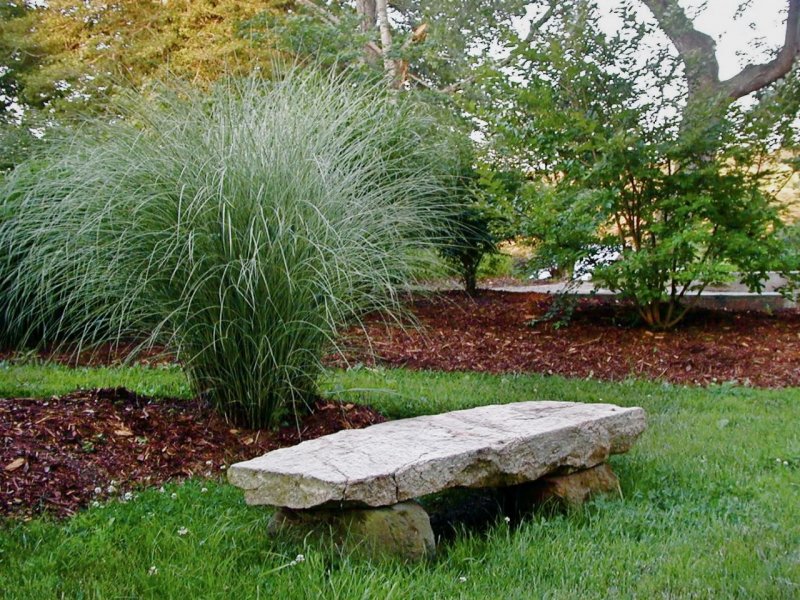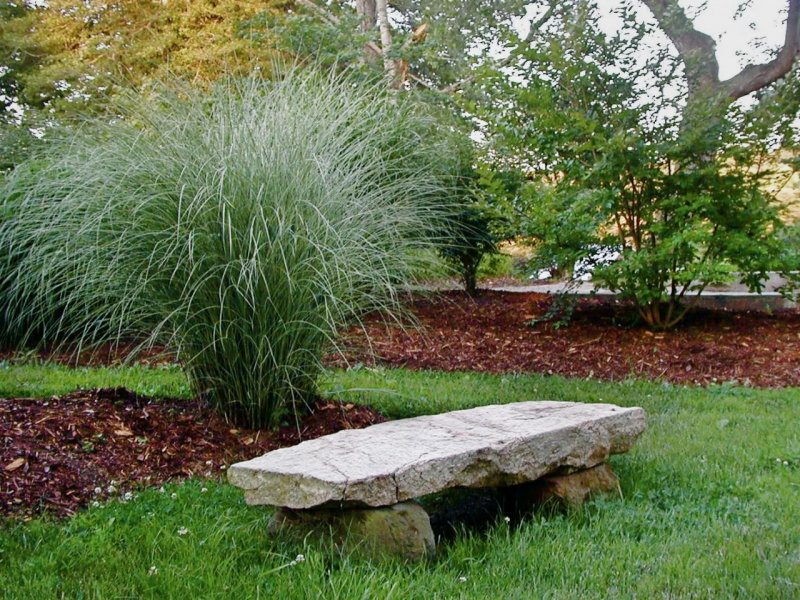 Sometimes you'll want to think out of the box when decorating your home. Take some inspirations from nature and employ some stones for creating this garden bench.
With a bit of creative searching, you can possibly find stones with similar sizes for the legs. You can consider completing the outdoor bench with unfinished wood plank instead of a stone too.
9. Simple Farmhouse Bench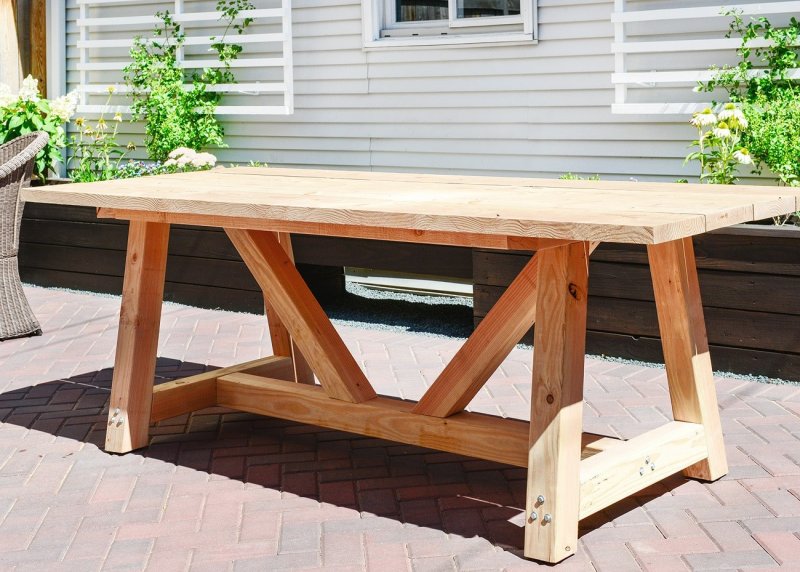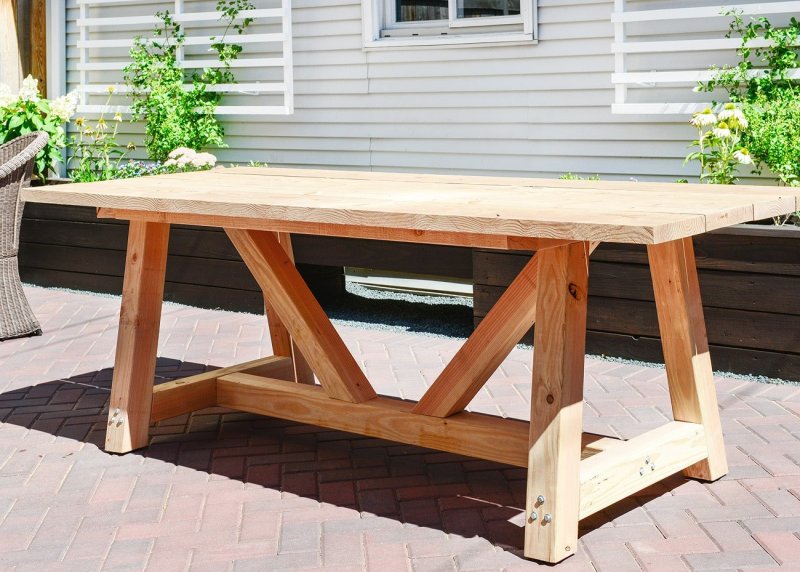 This simple farmhouse bench is generally easy to make. More interestingly, it is typically cheap too! You will only need a few pieces of lumber to create this bench at home.
If you don't want to spend too much time creating a bench, this idea is surely the best. After that, you can put the bench around the garden.
10. Cozy Patio Pallet Daybed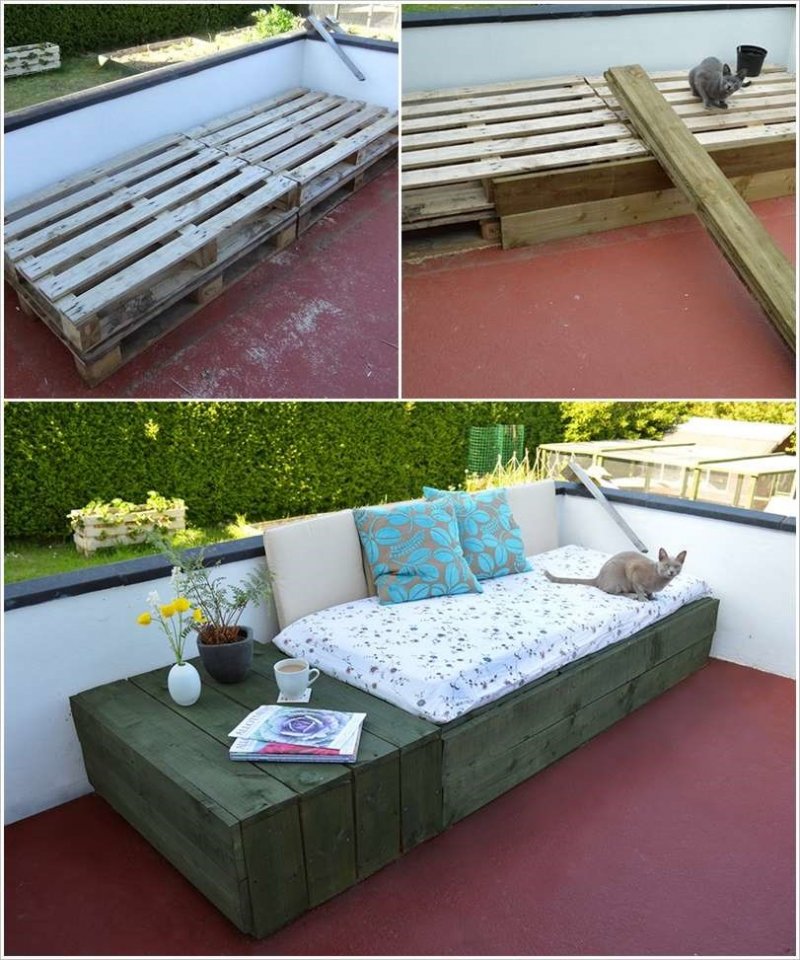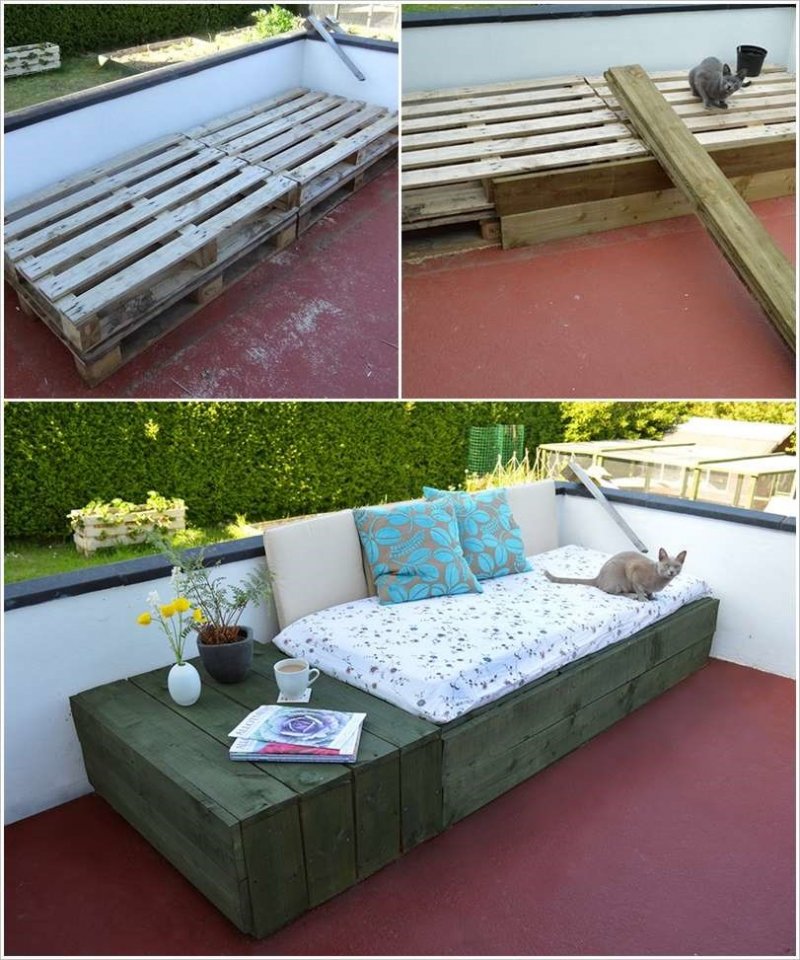 Instead of a simple outdoor bench, you may like to have such a cozy daybed like this one. It can be perfect to be placed on your patio or balcony.
Pallets are effortless to find out there. To create this daybed, you won't need so many pallets as well. Don't forget to complete the daybed with some cushions afterward.
11. Chic Adirondack Bench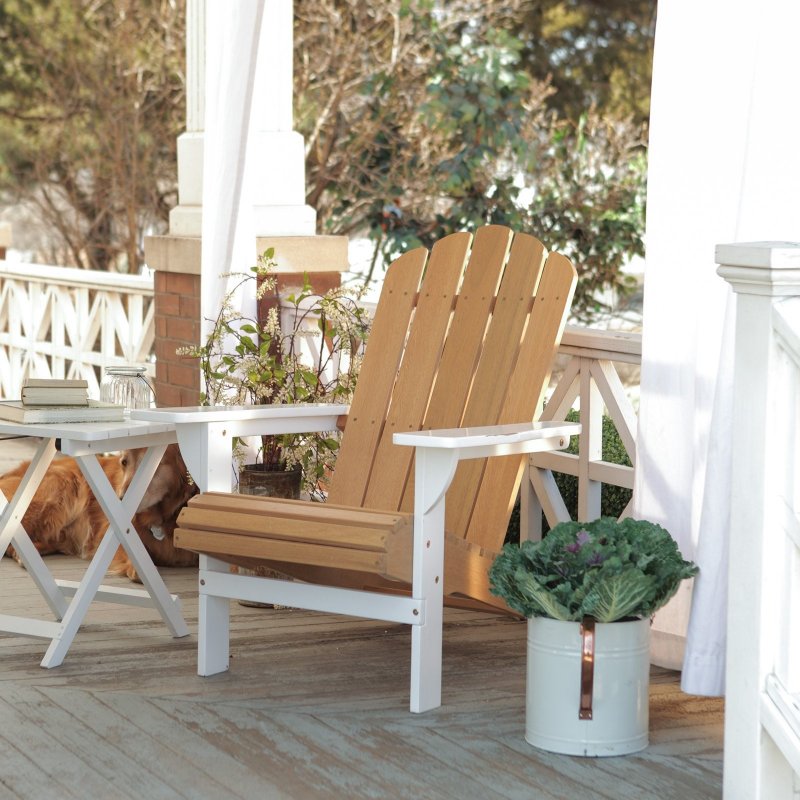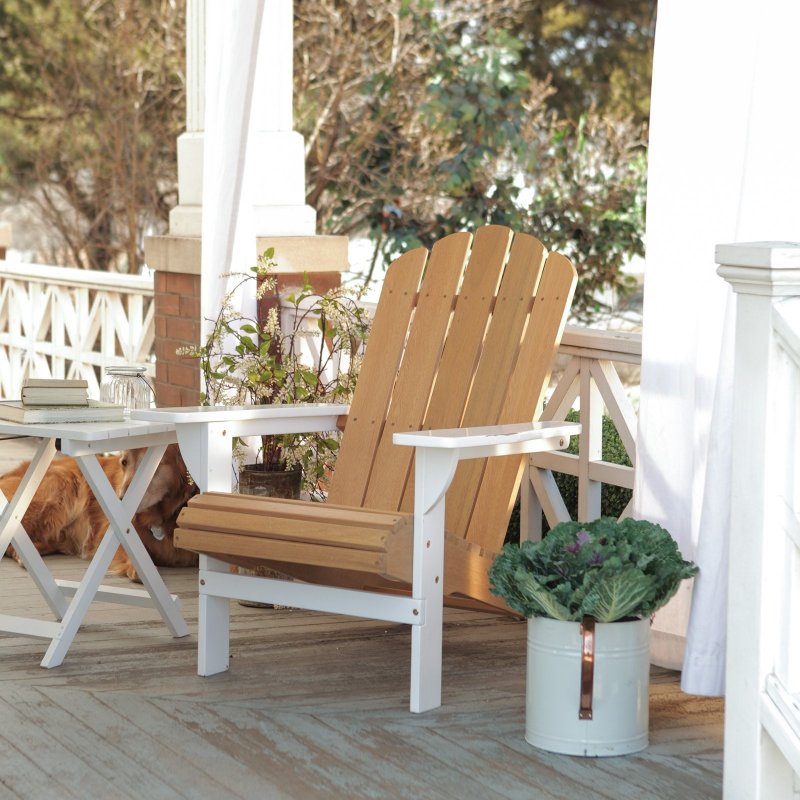 Sometimes you'll want to sit outside your home while enjoying your morning coffee. This bench will allow you to get the most of this idea.
Place it on your balcony or backyard to enjoy reading a book or newspaper while having a cup of coffee. Don't forget to add a side table next to the chair.
12. Up-Cycled Headboard Bench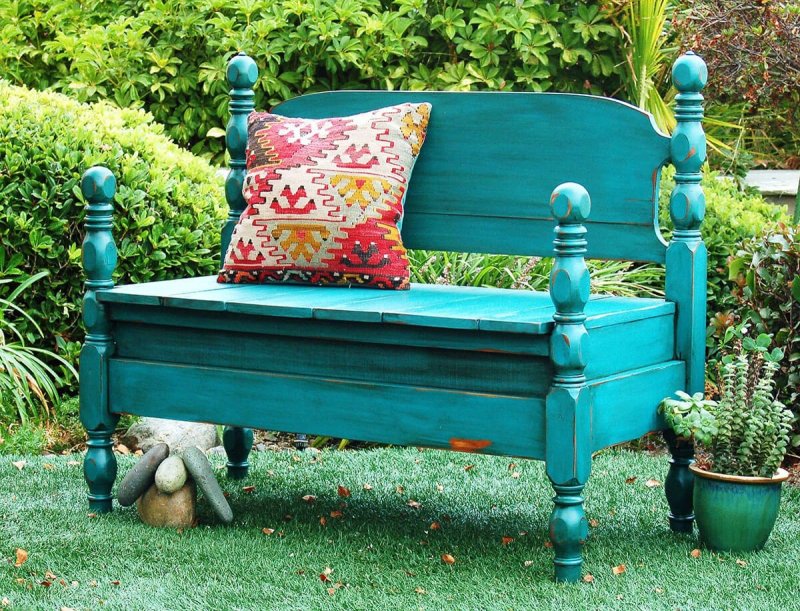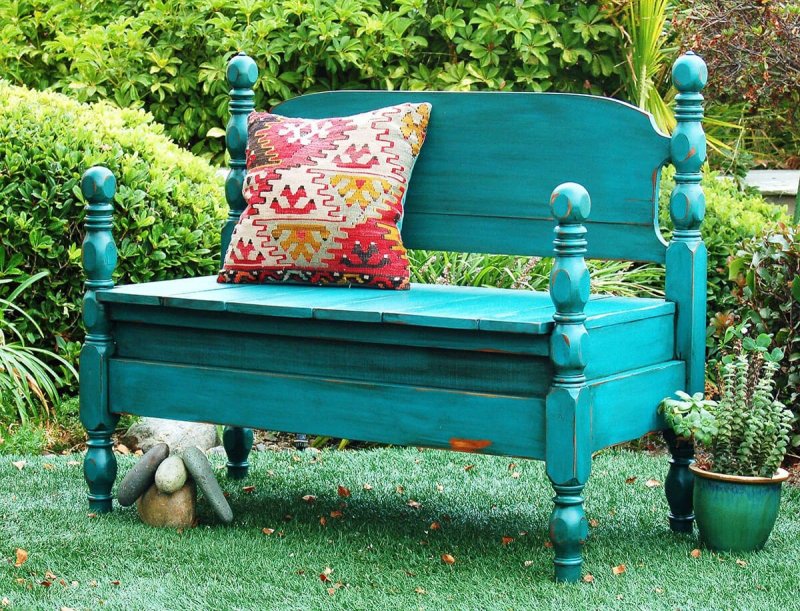 This is another headboard bench that you should take into account. This outdoor bench present color and function to your patio or garden.
Painted in a bright shade of green, this bench is not only eye-catching but also useful. Even though it is painted in bright color, you can easily fit it in any space of your liking.
13. Wooden Garden Bench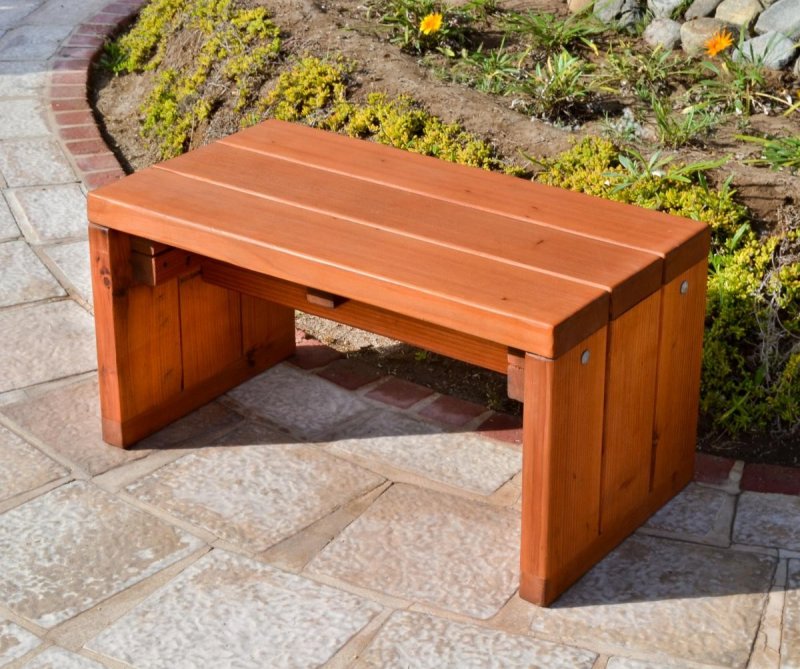 Your garden path needs a surprise along the way, such as this wooden bench. It is perfect for resting and enjoying the outside world while you're witnessing the sunset.
This outdoor bench is just right for that space which doesn't have shelter from the rain because this kind of bench doesn't feature a cushion.
14. Creative Dual Chair Bench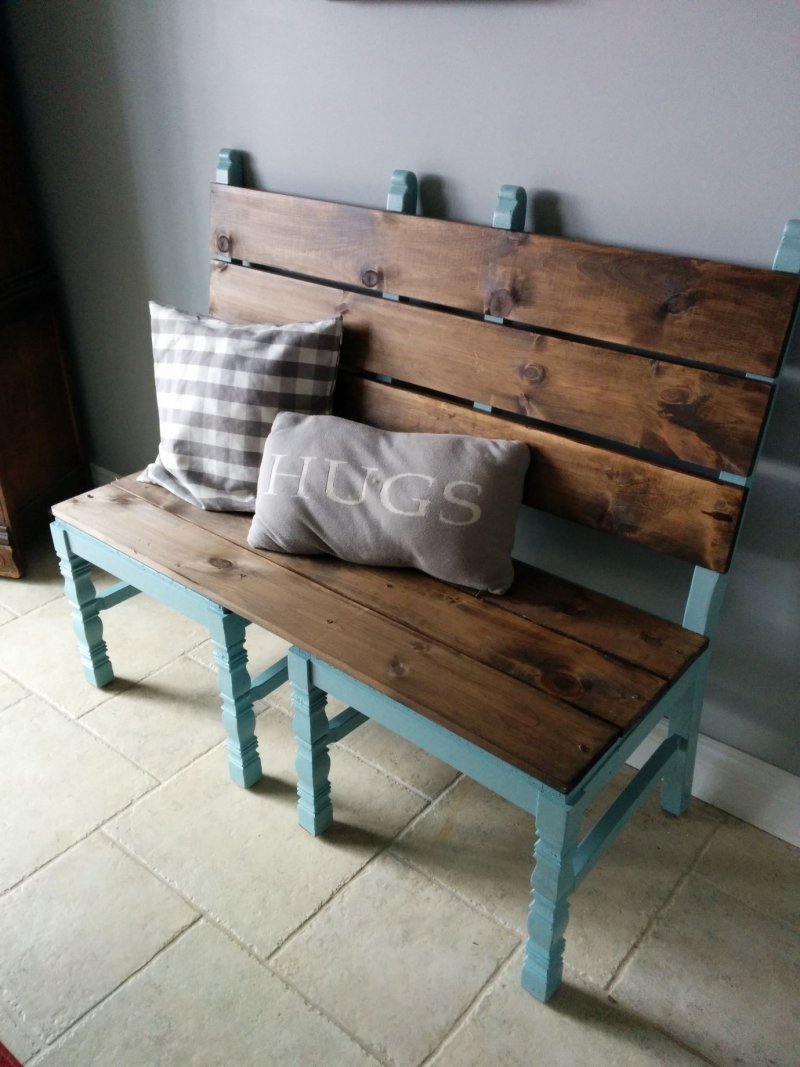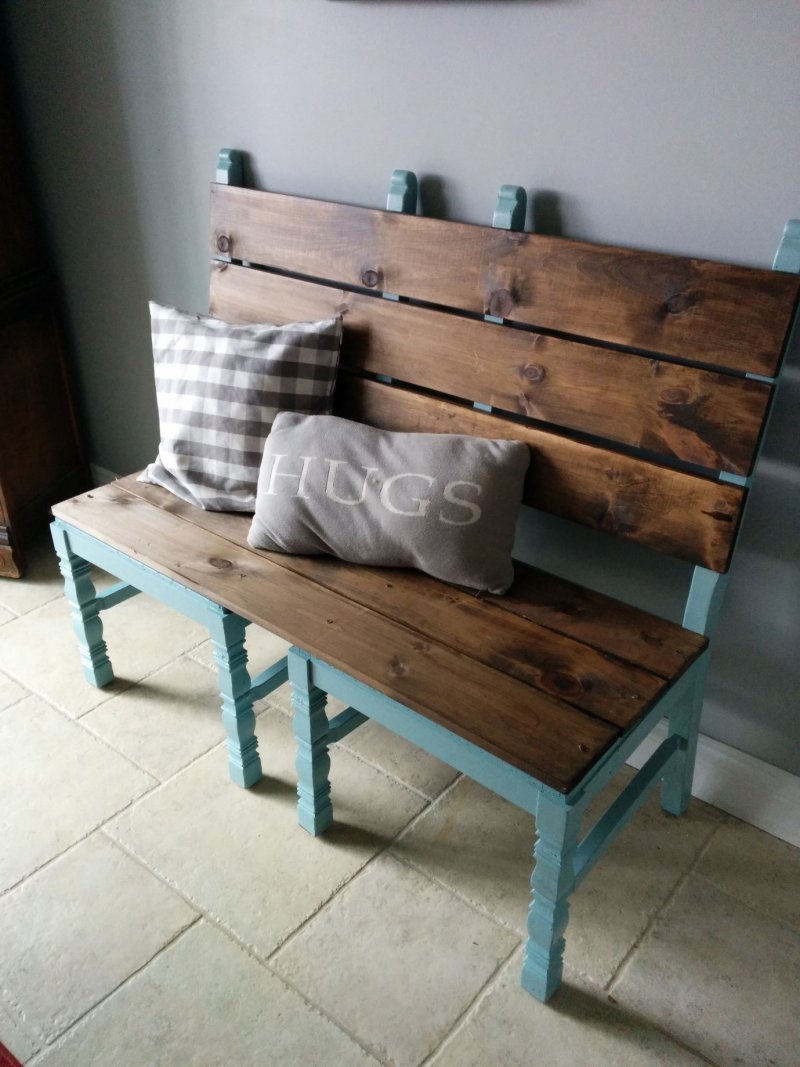 Rather than throwing away your old chairs, repurpose them to make this kind of unique bench! This dual chair bench is made from two abandoned chairs and a few lumber.
You can consider updating the look of the chairs by repainting them with a natural bright color. Then, don't forget to stain and seal the lumber to finish.
15. Colorful Garden Bench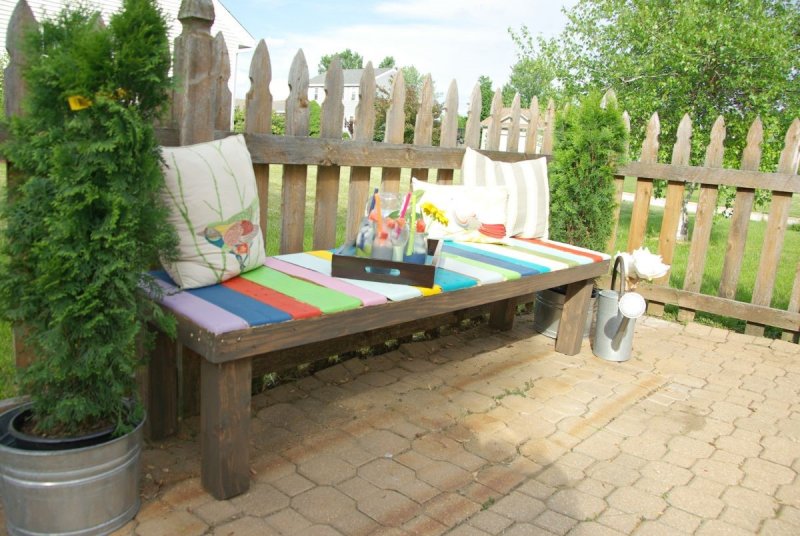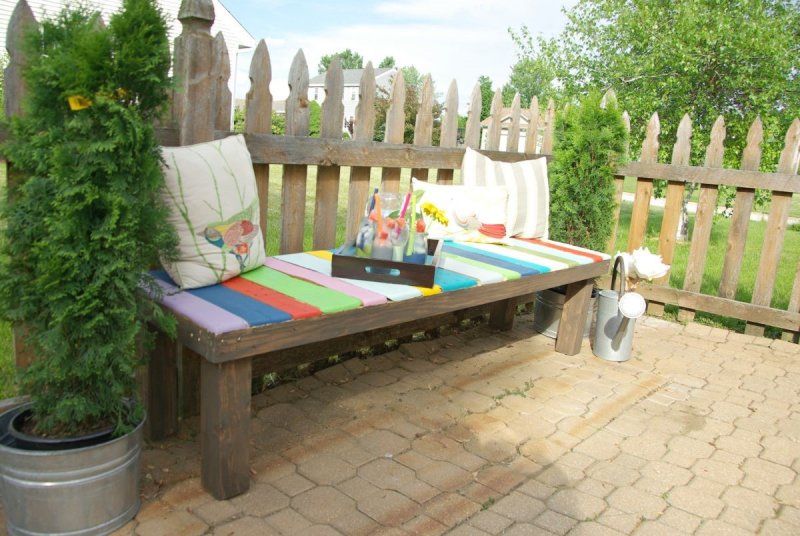 Whether you own an eclectic home style or just want to add a pop of color in your outdoor space, this colorful bench is perfect.
Painted in various colors, it gives an exciting touch in every outdoor space. You can consider place this beautiful outdoor bench alongside a contemporary style house or by a garden shed.
16. Bench with a Planter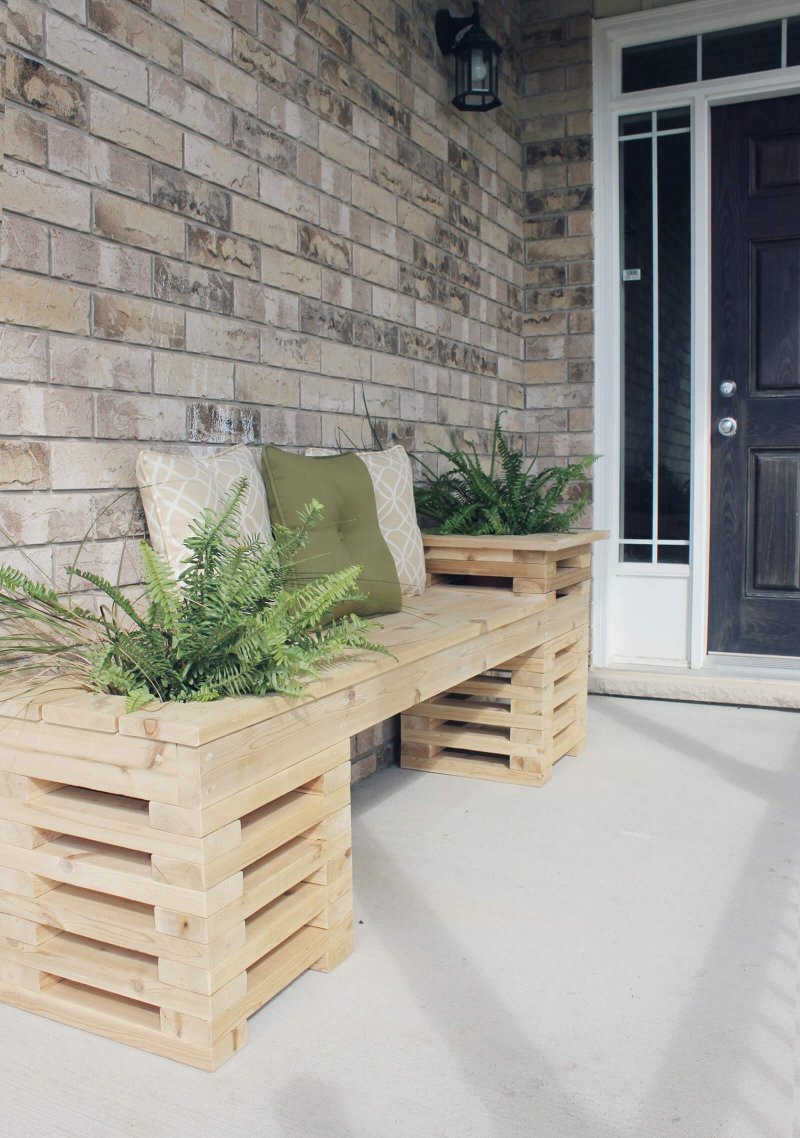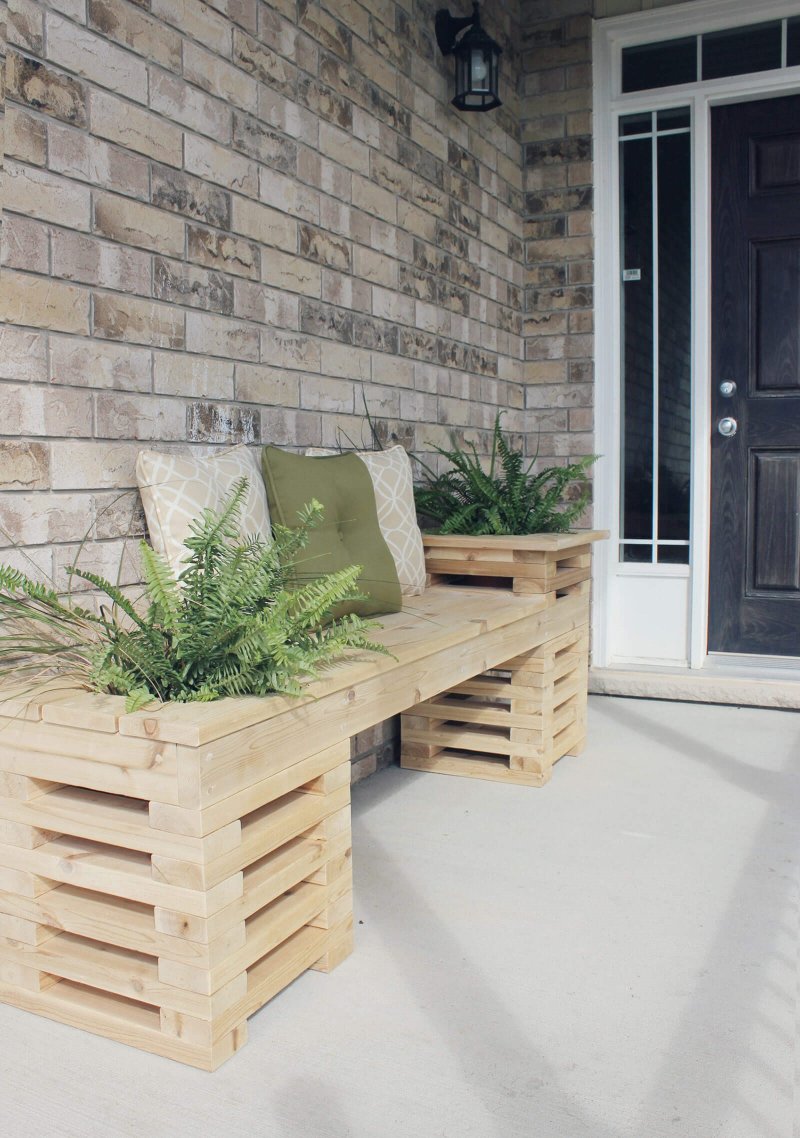 Plants can always bring a sense of nature to a patio or porch and they come in a variety of options which are easy to grow. Introduce planters to your porch or patio by creating a seating area with built-in planters like this one.
Finished in natural color, you have many possibilities when choosing the right flowers for this bench.
17. Stylish Headboard Bench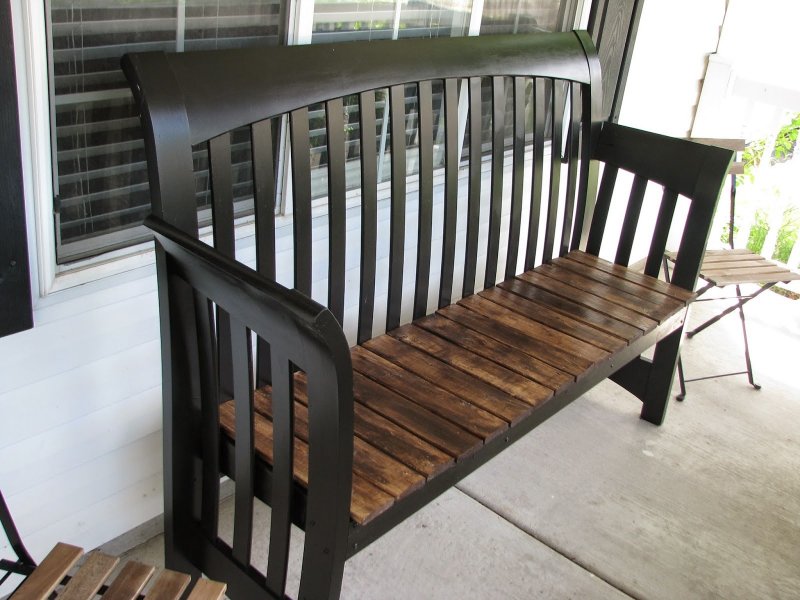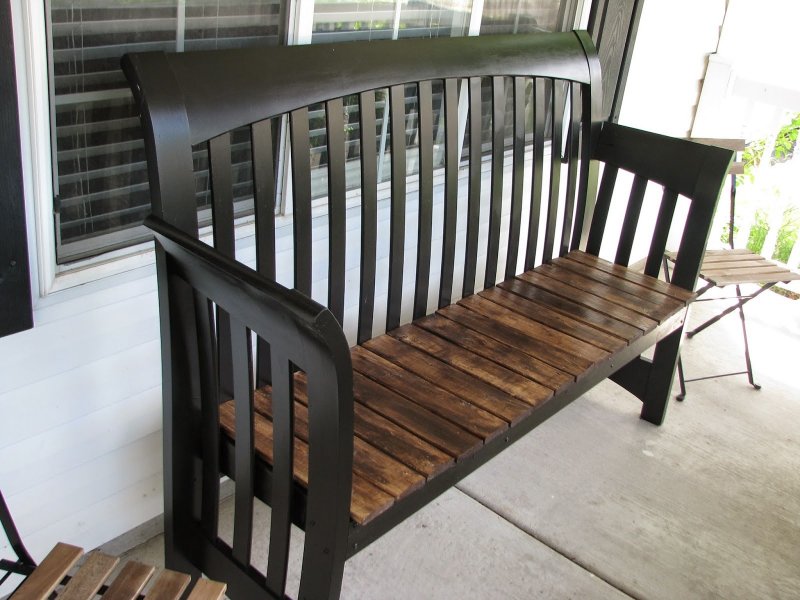 Discarded headboard has always been made sense to be repurposed into a lovely bench. Just like this outdoor bench, it is perfectly made by using a stylish headboard for the back. If you don't have any old headboard, check out rummage sales.
Finish the bench with stunning black color and you will have furniture that can contrast your neutral exterior.
18. Cool Canopy Bench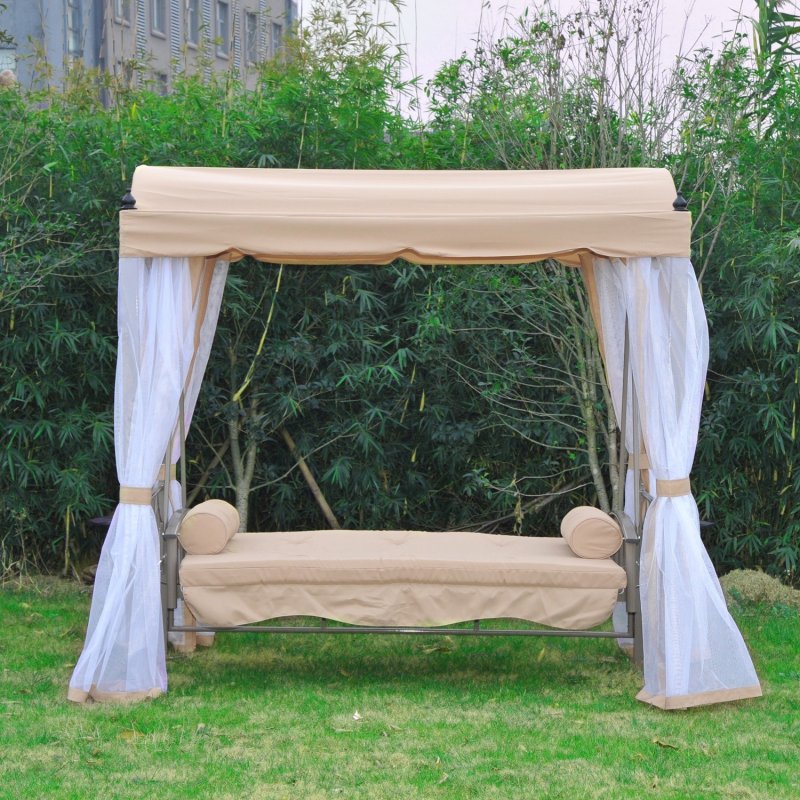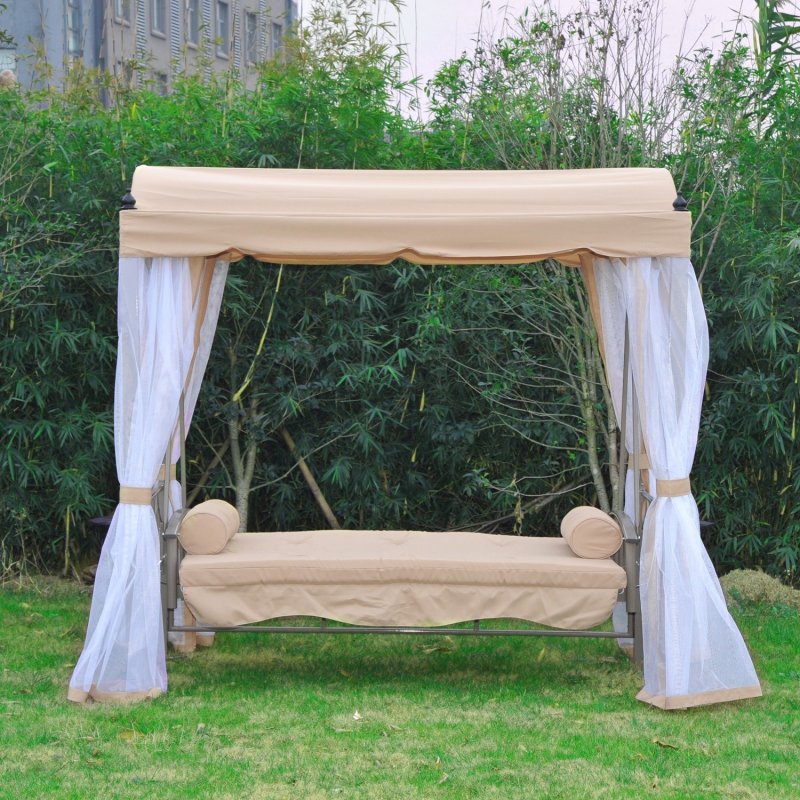 Evocative of the canopy beds which those little girls loved when they were young, this garden canopy bench introduces that sense of comfort to your outdoor area.
The bench itself is basically a simple wood frame which includes a neutral cushion, and the canopy encircles the bench. Just close the curtain to make your own private sanctuary outdoors!
19. Shabby Chic Bench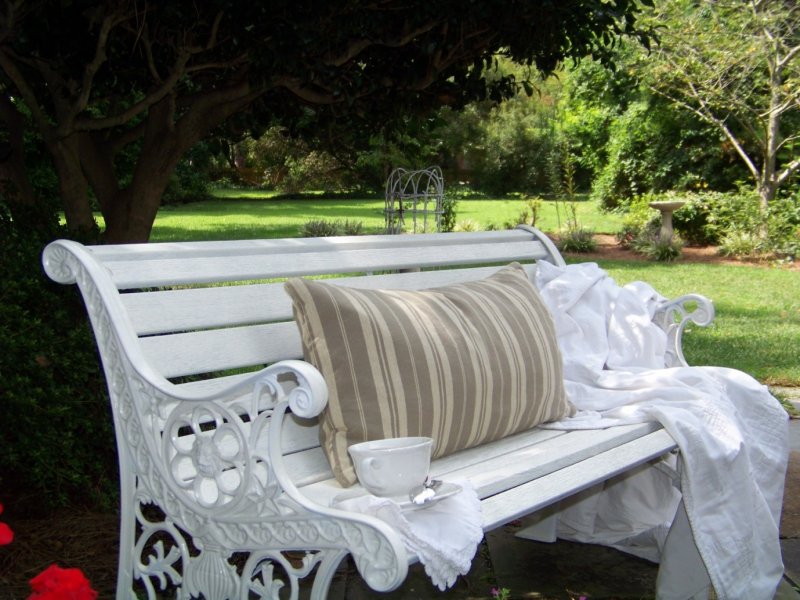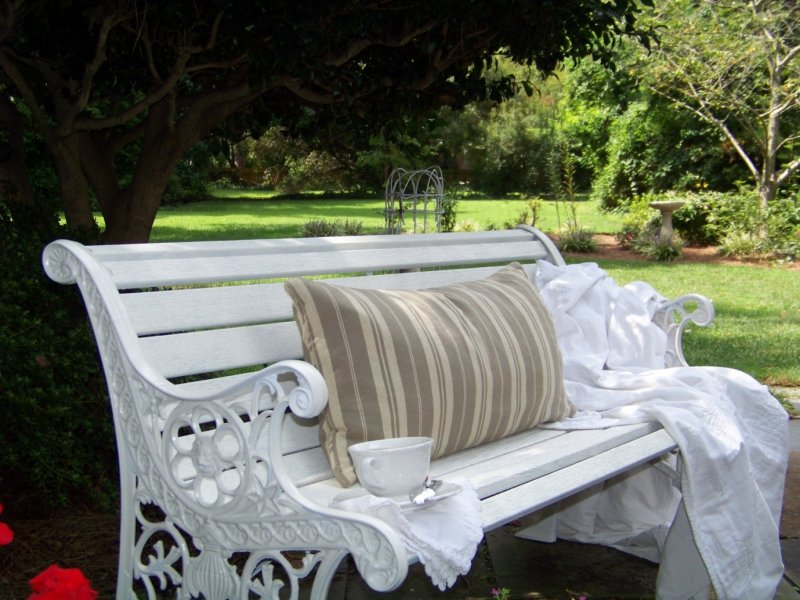 This shabby chic bench offers such a nice touch to any garden. With a matching pillow, you'll want to rest here and enjoy the breeze.
Painted in white, this outdoor bench can provide a balance in your green garden. Consider placing a pot of flowers next to the bench for an extremely lovely look.
20. Modern Black Bench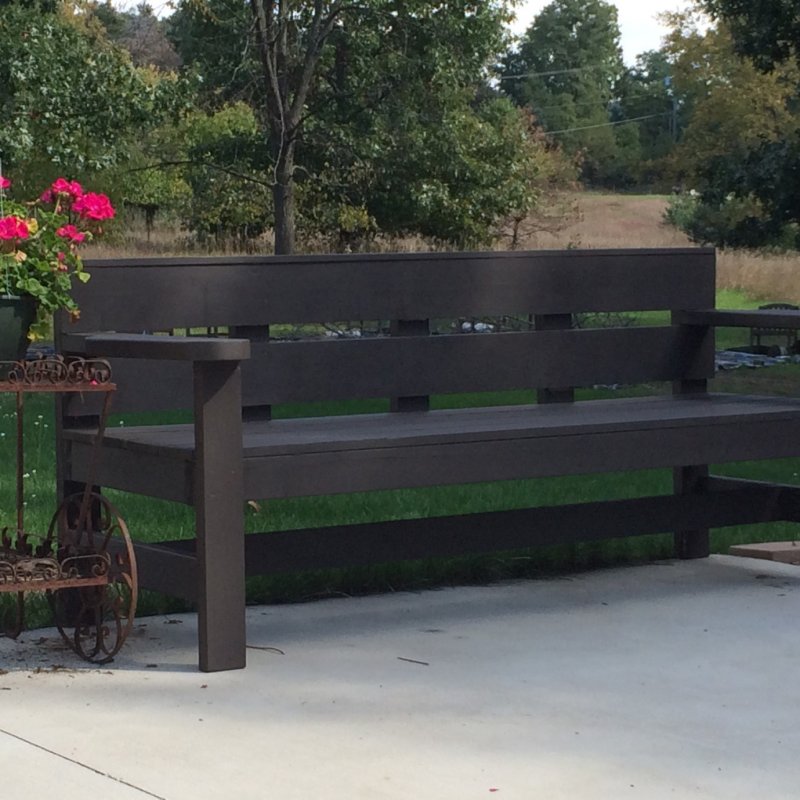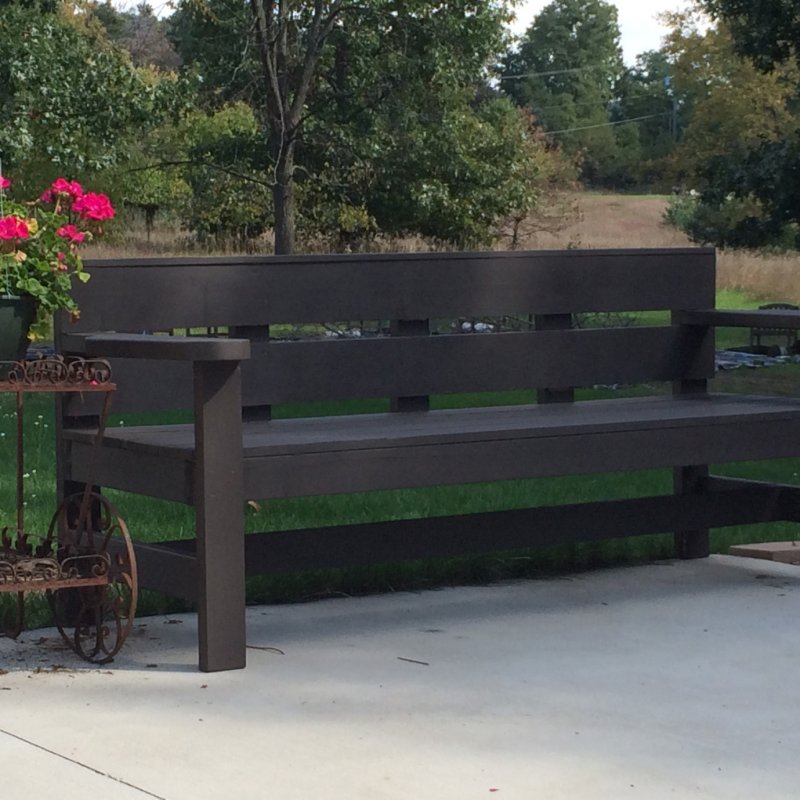 This bench comes in a cool black paint finish, making it easier for you to fit it in anywhere around your outdoor area.
It's good enough to put it under a tree in your garden or in the porch area. It has back and armrests to it; however, it still looks simple to fit into any décor.
21. Perfect Semi-Circular Bench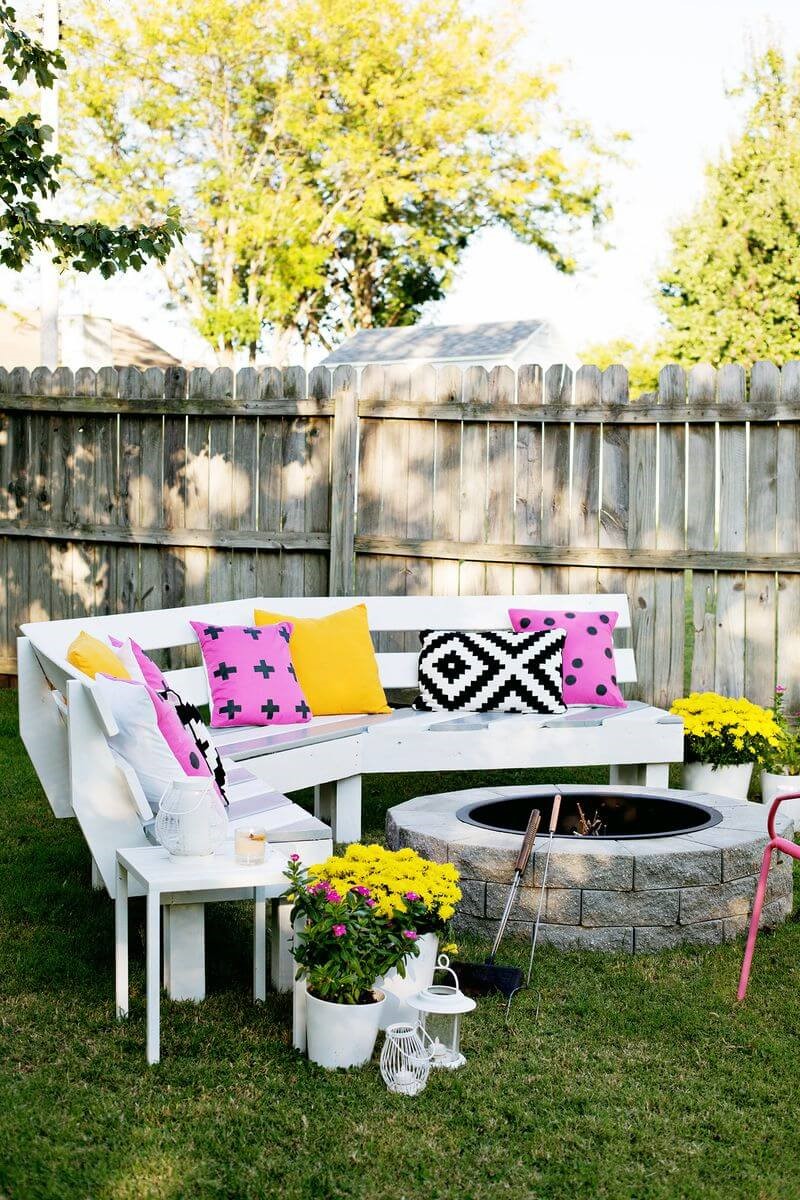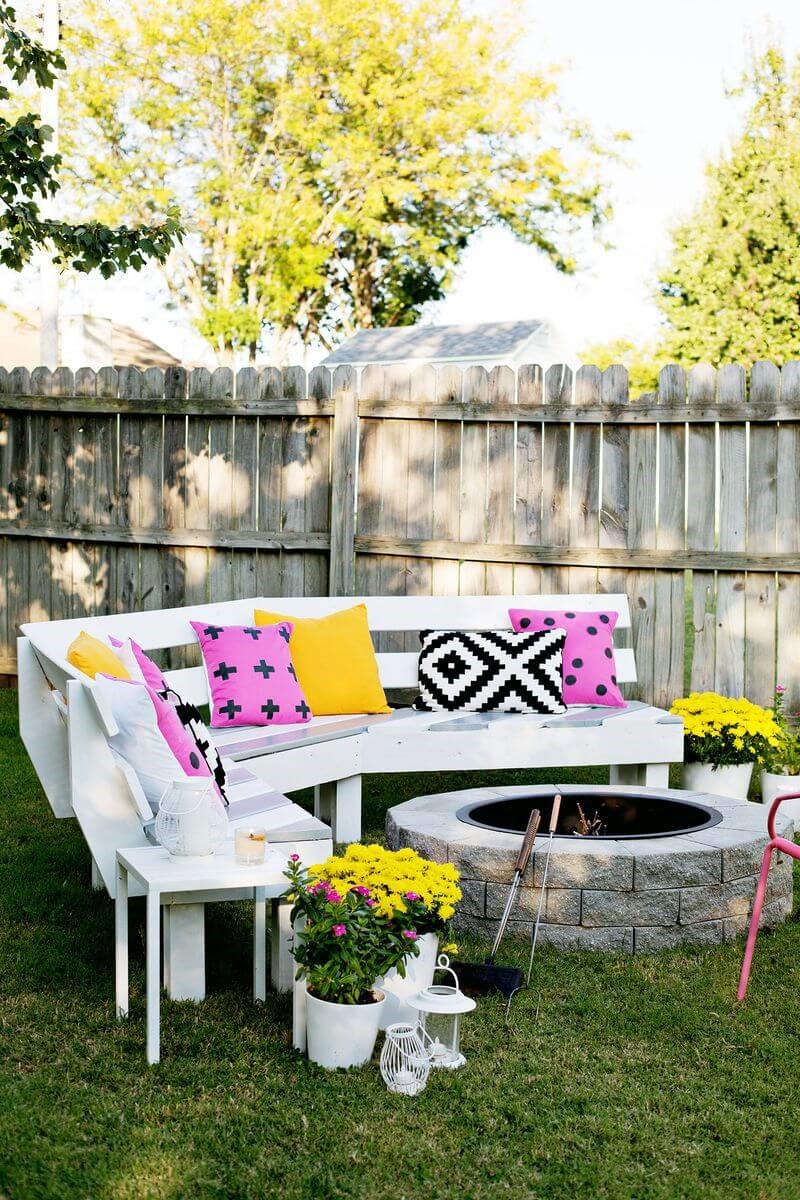 If you own a bonfire pit but always end up gathering lawn chairs to enjoy the warm, consider creating this semi-circular bench to have a permanent seat for summer campfires!
This semi-circular outdoor bench can seat many people and offers sloping back for your comfort. You can put some colorful pillows on it for a pop of colors.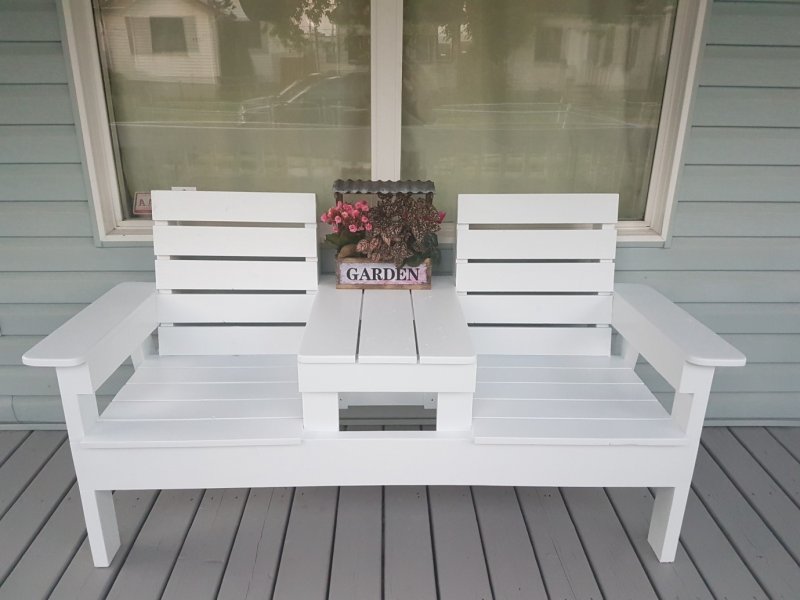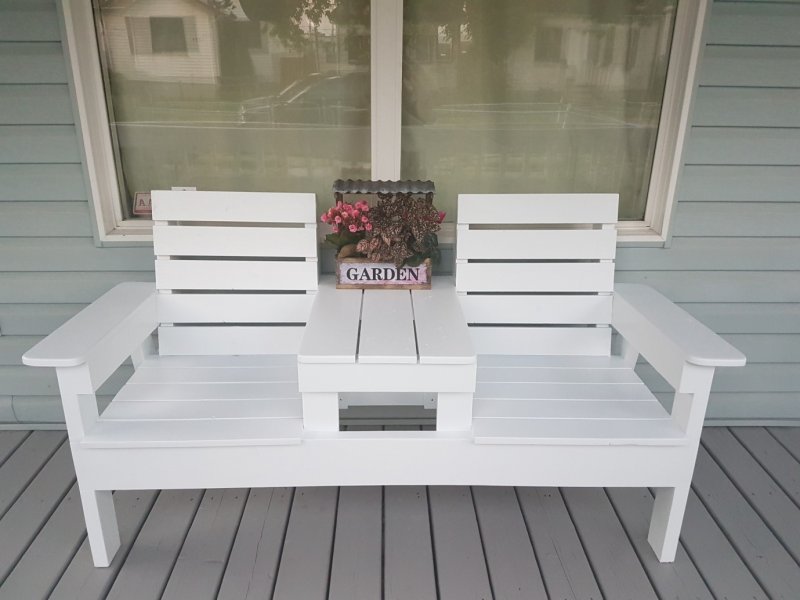 This double chair bench comes with a built-in shared table that can help you relax while enjoying the outside world.
You can sit here, have someone next to you, and place your favorite meals or drinks on the table. This bench is also durable which means you'll have it for lots of years to come.
23. Picnic Style Long Bench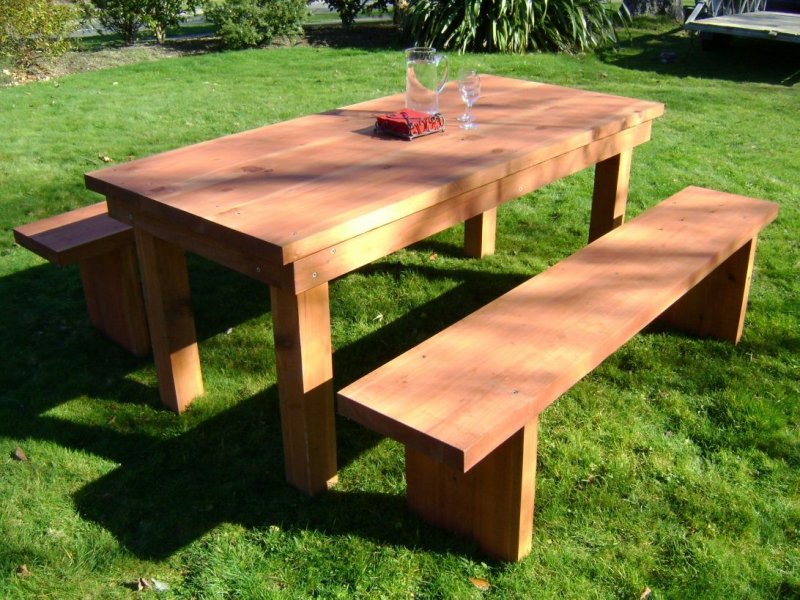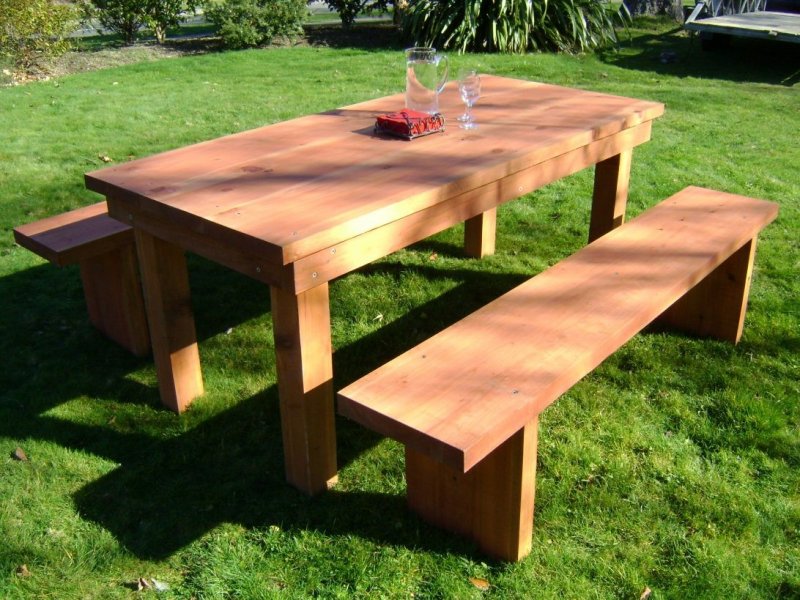 This picnic-style long bench will allow many people to sit comfortably in the garden. It's simple to build and is typically not expensive.
Painted in a neutral redwood color, this outdoor bench can become a focal point of your garden or patio area. You can consider making the bench alone or building the table, too.
24. Simple Corner Bench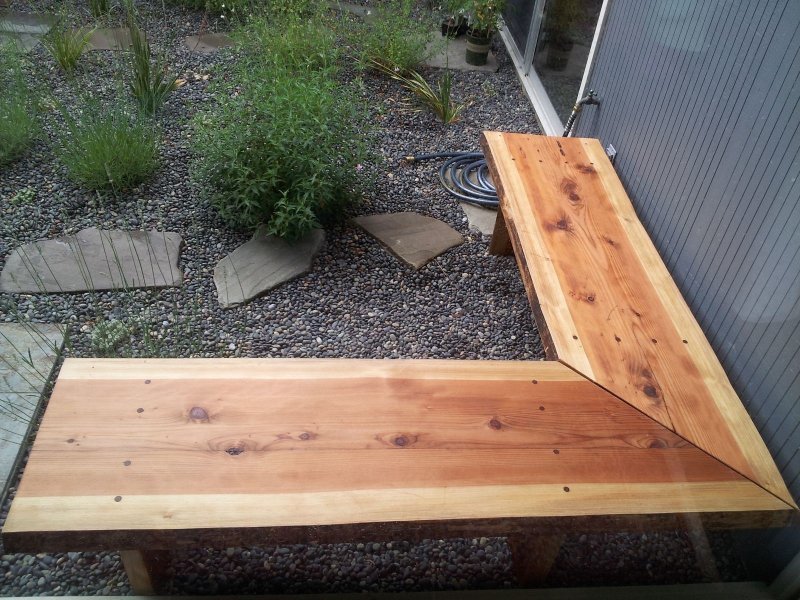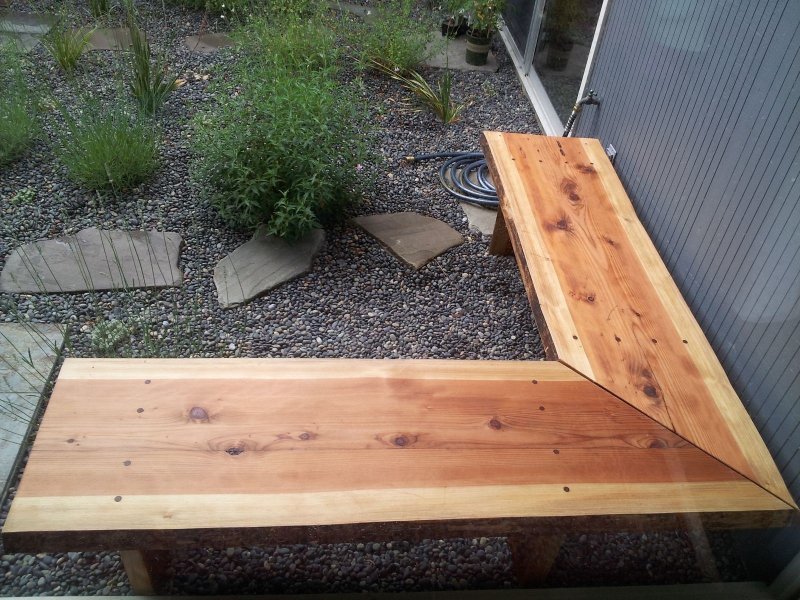 This is a pleasant project for anyone, even with limited carpentry skills and supplies. You can create this with any kind of hardwood you want and paint it in any color you like.
This bench doesn't come with any storage, but you can easily adjust the plans to include storage space.
25. Nature Concrete Bench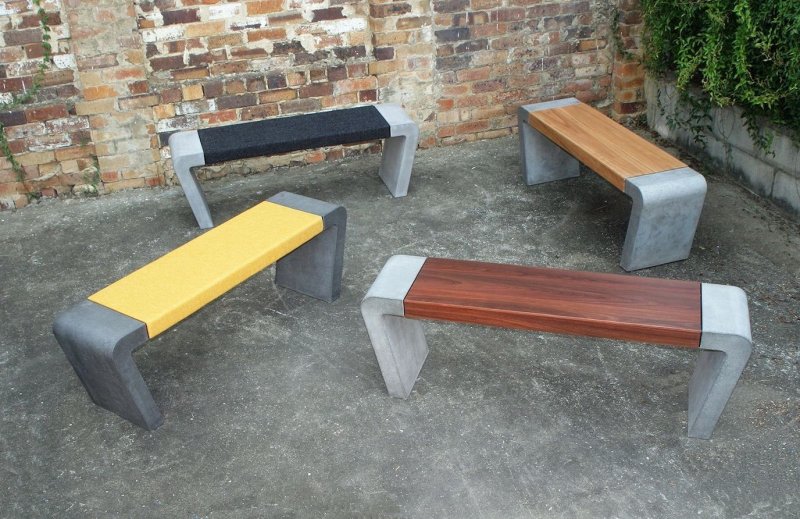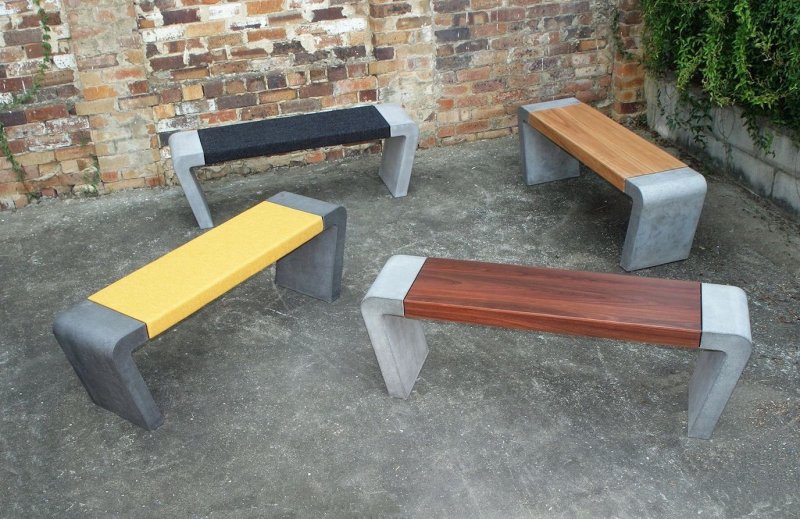 This concrete bench has an exceptional design with concrete legs and smooth wooden plank seating. This outdoor bench makes an ideal addition to a cottage garden.
You can also consider placing it under the tree. It may seem complicated to create, but with a little consideration to detail, you can create this unique bench for the yard.
26. By-the-Seaside Cottage Bench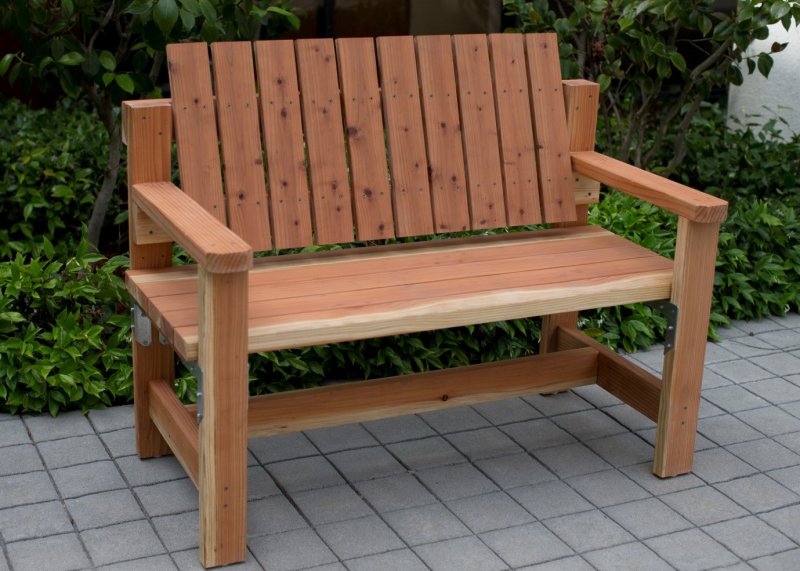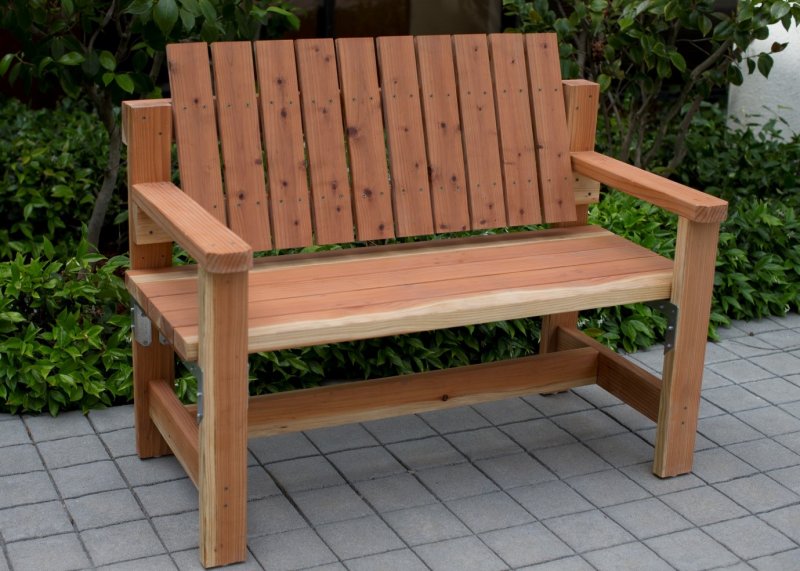 Do you want to enjoy that sensation when you are relaxing by the sea in the summer? Even if you are living in a land-locked regency, you can make your dream comes true with this bench.
Created from simple materials and stained, this bench introduces a little sense of the coast to your outdoor area.
27. Park Style Bench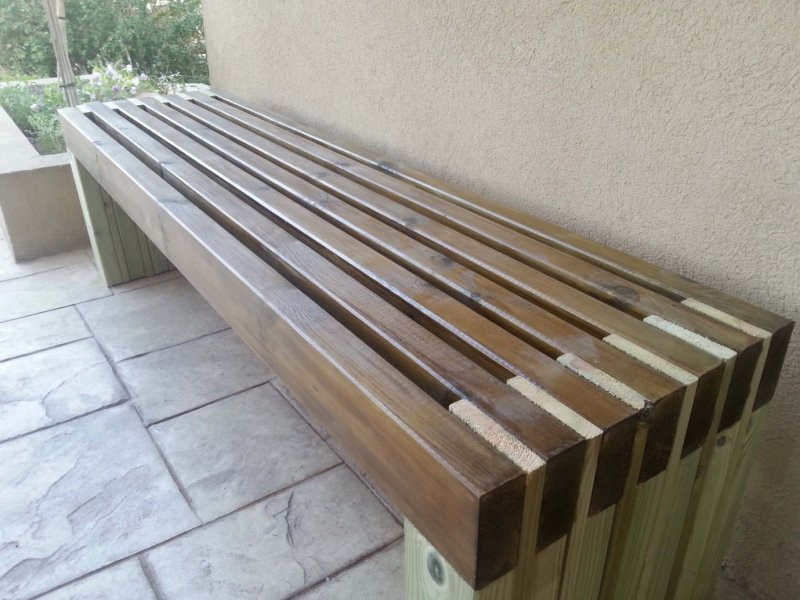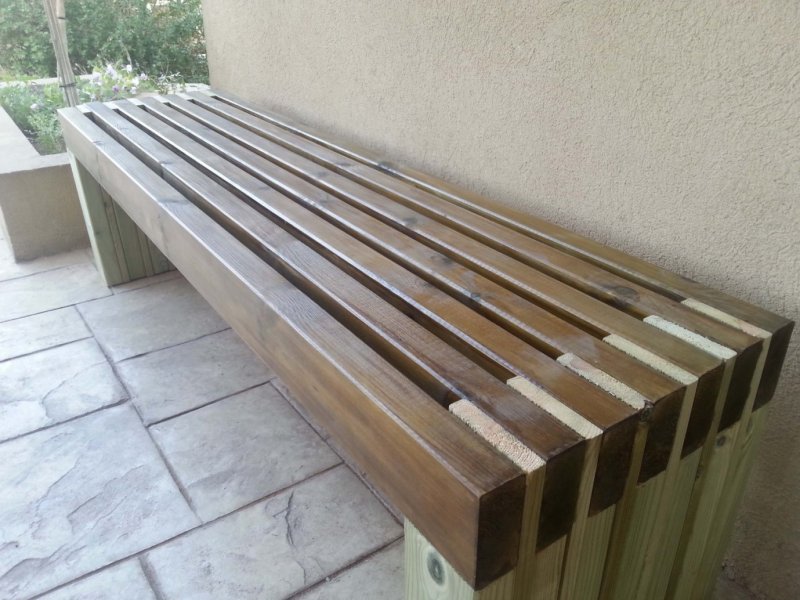 When you're walking through the city park, the chance is you find a bench to take a short break. This park style bench will encourage the same feelings of sitting in a city park.
Built from pine and finished with a darker stain, this outdoor bench makes a great complement to a modern house.
28. Awesome Cinderblock Bench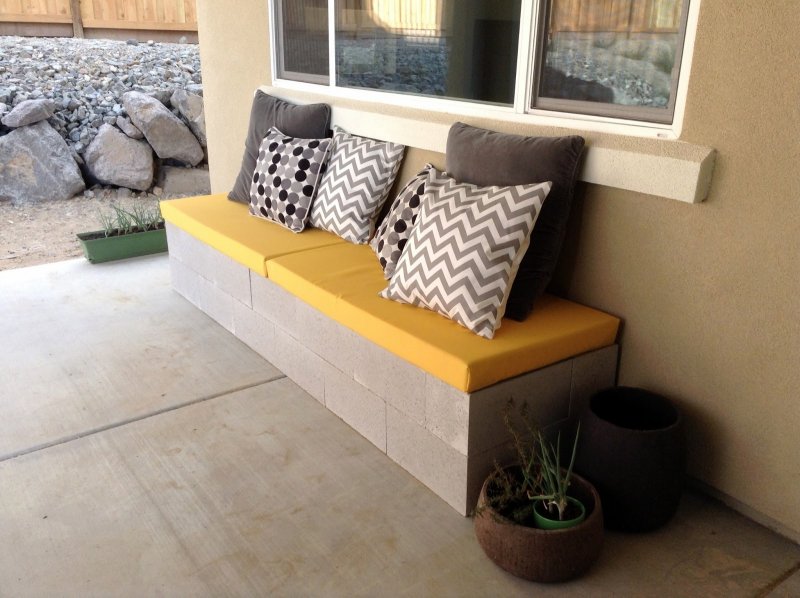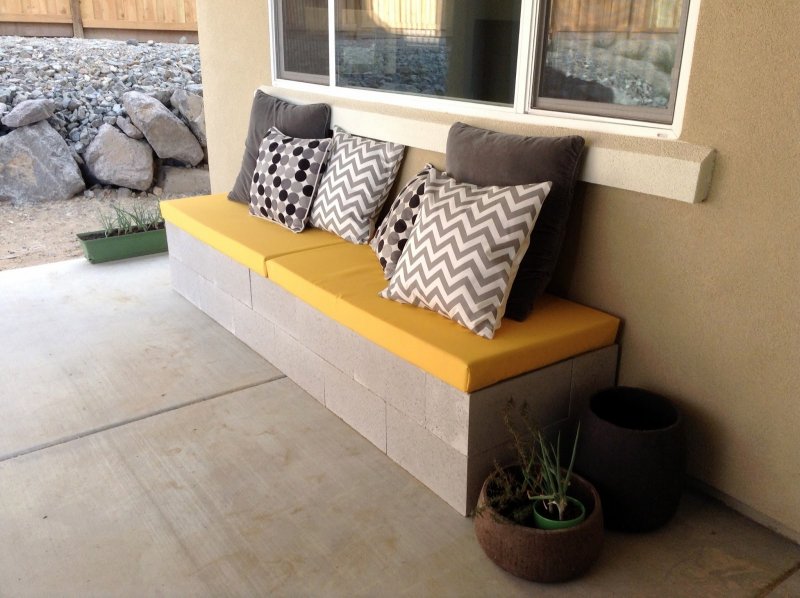 This cinderblock bench makes your backyard seems even more beautiful with its calming color choice.
You don't need to have advanced skills of carpentering and don't have to spend too much budget for creating this bench. Complete it with a few patterned pillows and you'll have an extra comfy seating area outdoor!
29. L-Shaped Garden Bench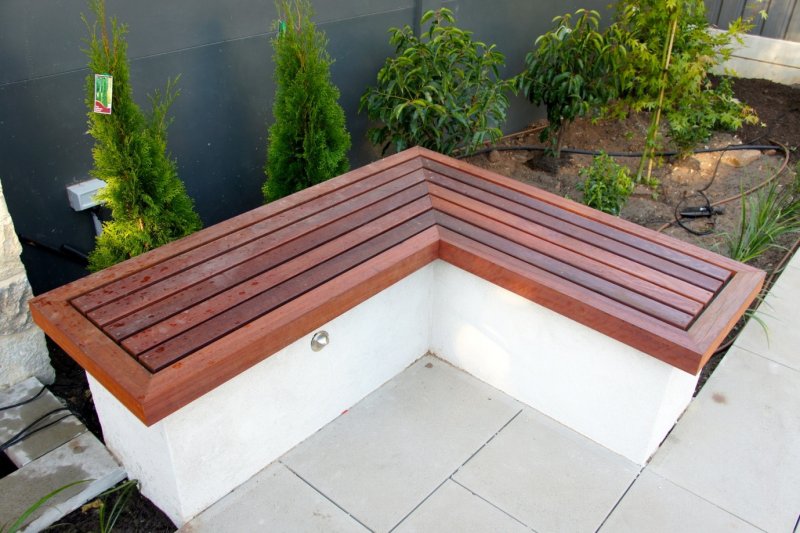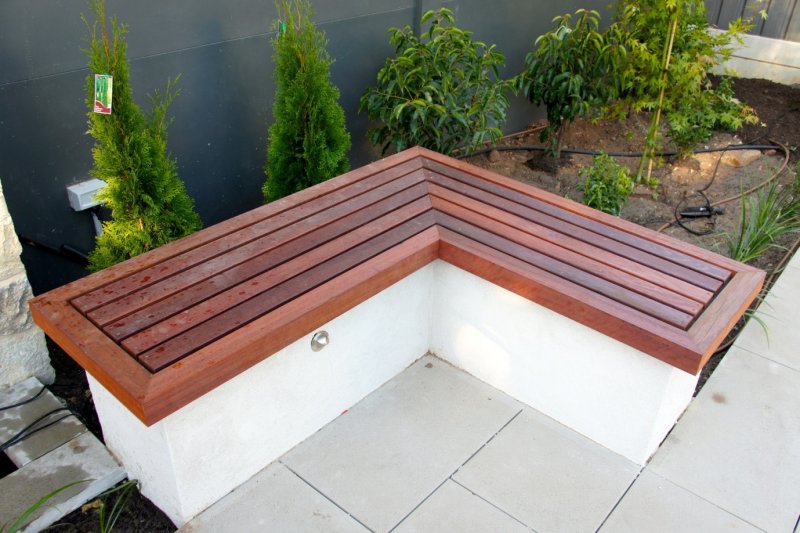 This L-shaped bench is worth a little sweat, but it doesn't need to take so much of your time to finish. With molded concrete legs and some wood planks, this project is basically simple.
You can place this outdoor bench anywhere around your garden or in the corner of your outdoor patio.